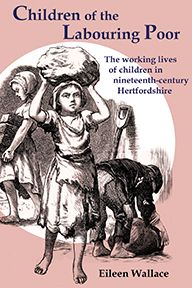 About the book
"A significant contribution to the project of retrieving the neglected history of working children." Katrina Honeyman, Economic History Review
"This is a readable and instructive narrative of children's employment in her chosen county and is recommended to historians with an interest in the subject and period." Clive Leivers, Family and Community History
"This is a carefully-researched and well-written work that offers a wealth of information about the hardship experienced by working children in Hertfordshire through the nineteenth century. It should attract a wide readership among those interested in childhood, labour, education and Hertfordshire history." Niels van Manen, Local Population Studies
In this book Eileen Wallace focuses on the lives of working children in nineteenth-century Hertfordshire employed in agriculture, straw-plaiting, silk-throwing, paper and brickmaking and as chimney sweeps.
In Hertfordshire, as elsewhere, children of a very young age worked long hours, received little education and endured poor housing, hunger and dreadful sanitation.
More about the book

At the beginning of the nineteenth century, Hertfordshire was still predominantly rural. A great many children worked on the land from an early age and were expected to be able to plough from ten years old.

Other families employed their young children to carry out the heaviest tasks in brickmaking. Small boys, in particular, were also much sought after to climb and sweep chimneys, a practice which continued until the last quarter of the century in spite of earlier laws intended to abolish it.

Many diseases afflicted these young chimney-sweeps, although deaths and injuries to children working in other industries were all too frequent as well.

It is a common assumption that, during the Industrial Revolution, factories and mills existed only in the north of England but, as this books documents, there was industry in the south of the country too, including silk-throwing and papermaking, the working conditions of which matched those in the northern manufactories.

Drawing on contemporary reports and illustrations, Eileen Wallace details the contributions of the children towards their families' livelihoods in hard times and the high price they paid in terms of poor health and diet and missed opportunities for education - regular attendance at school was unusual.

Whilst there were rare examples of enlightened factory-owners such as John Dickinson, an innovative papermaker who built good housing for his employees to rent, the overall picture that emerges is one of harsh conditions and gruelling labour for Hertfordshire's children during this period.

Read a sample chapter

About the Author/s:
ISBN: 978-1-905313-49-5 Format: Paperback, 192pp Published: Oct 2010
Any questions
Contact us at UH Press if you have any queries or would like to find out more about this book.