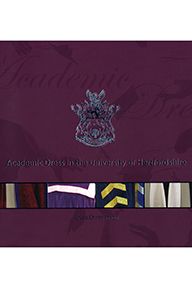 About the book
Beautifully designed and illustrated throughout in full colour
A fine souvenir for graduates of the University of Hertfordshire. There are many different variations of academic dress, depending on the academic qualification held by the wearer. This book describes the different degrees and diplomas awarded by the University of Hertfordshire and looks in detail at the gown, cap and hood associated with each award.
Traditionally, academic dress consists of a black gown and square cap. The hood (which is now the distinctive mark of a university-level qualification) is medieval in origin and was originally functional. Modern academic hoods, however, are intended to indicate the wearer's degree and parent institution, rather than keeping their ears warm.
The special costumes prescribed for the Senior Officers of the University are also detailed.
The book will also be of interest to all with an interest in modern academic dress (see, for example, The Burgon Society, www.burgon.org.uk).
ISBN: 978-1-905313-39-6 Format: Paperback, Published: Oct 2006
Any questions
Contact us at UH Press if you have any queries or would like to find out more about this book.