WorldStory
WorldStory gathers the memories of our International Students
WorldStory is a long-term oral history project which is recording the personal stories of international students at the University of Hertfordshire.
International students agree to recorded interviews of up to an hour, conducted by members of the trained oral history team at the university. The interviews cover such areas as the location each student comes from, his/her family and educational background, their decision to come to the University of Hertfordshire, aspects of life at Hatfield and in the UK, and keeping in touch with family back home.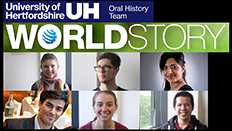 Again and again the students interviewed say how much they have enjoyed the experience, not least because it makes them feel that the University of Hertfordshire has embraced and valued them in a particularly personal way.
The WorldStory archive of interviews will be made available to researchers of all kinds around the world. Together, the recordings paint a magical picture of a university in the 21st century with an international dimension unimagined just a few decades ago.
If you would like to be interviewed for WorldStory please see the contact details in the box on this page.
Andrew Green
Senior Visiting Research Fellow
Project Leader, WorldStory
International members of staff
In the 2018-2019 academic year, the WorldStory project took an an additional dimension, that of inviting University of Hertfordshire members of staff to contribute their stories to the ever-growing archive. As with the student testimonies, these interviews have taken the UH oral history team around the world, from Russia and the Baltic States to India, Holland, Sweden and the USA. As always, the stories are highly individual, colourful and insightful.
You can listen to those stories by visiting the WorldStory archive.
Stories from around the world
Already the WorldStory archive contains the contributions of students from such countries as:
Australia
Brazil
Bulgaria
Canada
Czech Republic
Denmark
France
Ghana
India
Italy
Kazakhstan
Kenya
Malaysia
Mexico
Nigeria
Norway
Pakistan
Romania
Slovakia
Taiwan
USA
Vietnam
and many more...
Listen to student stories
Hear extracts from WorldStory interviews.
Full recordings
Listen to the full recordings by visiting the WorldStory Oral History Archive.
Podcasts
Listen to some WorldStory podcasts which have been made to highlight some of the stories that were captured.
Our international students
Read the reactions of our international students who took part in WorldStory.