The Interviewees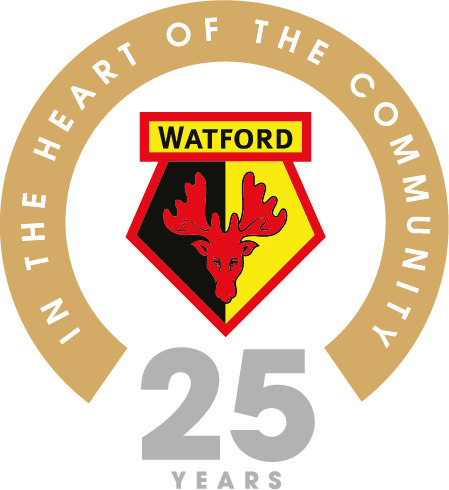 A team of volunteers were recruited at the start of the project and with great support from the University of Hertfordshire, oral history training was delivered in April 2017. Once trained the volunteers conducted over 70 interviews with past players, beneficiaries of the Trust's projects as well as past and present employees of the Trust. All of the interviews were transcribed and proved extremely valuable not only for the commemorative book but also for the museum exhibition and new website. The project has given Watford FC a comprehensive history of its community outreach work as well as capturing its rich heritage in this area. A database of memories has been built up which will prove invaluable as a research resource for future use.
Oral History recordings
Click on the dropdown lists below to hear the stories from the interviewees.
Adekite Fatuga-Dada - Trust participant and Watford Ladies player

Adrian Mariappa - Current Watford FC player

Anthony Burton - Trust project participant

Ben Wells - Current Trust employee

Charlie Cayton Ferrero - Trust sponsor

Chris Punt - Former Trust project manager

Ed Coan - Trustee

Gloria Pearce - Trust project participant

Gordon Taylor - Chief Executive, Professional Footballers Association

Graham Green - Former Trust coach

Jacob Hutchings - Trust participant

Jake Colley - Former Trust participant, (Graham Taylor's grandson)

Jimmy Gilligan - Former WFC player, second Football in the Community Officer

John McDermott - First Football in the Community Officer

John Salomon - Former Trust coach

Judith Byford - First Trust PA

Julia Bateson - Former Head of Education programmes

Julian Winter - Former Trust Director

Kirk Wheeler - Third Football in the Community Officer

Lisa Hayhoe - Former Trust Coach

Lucy Tearle - Current Trust employee

Mark Timmington - Former Trust participant and current Trust employee

Mike Sullivan - Former WFC employee

Neil Hart - Former Trust employee

Nick Cox - Former Trust coach

Nick Perchard - Former Trust coach

Oliver Phillips - Former Sports Editor, Watford Observer

Richard Segalov - Trust supporter

Richard Walker - Head of Communications, Watford FC

Rob Smith - Trust Director
Simon Macqueen - Trustee

Stef Palfrey - Former Trust Coach

Stephen Payne - Trust supporter

Steve Palmer - Former WFC player

Tommy Smith - Former WFC player

Tony Marks - Former WFC Shop Manager

The Wood Family - Former Trust participants