Higgins Bedford: Voices - Different Pasts, Shared Future

Refugees
Thank you very much for opening your country to refugees, because they are starting a new life whether they will have a chance to go back, for example the Syrians, they would love to go back, but they know that maybe they will never get back. But the fact that a European country, whether it is England, or part of mainland Europe, the fact that countries have opened their homes, their facilities for them, looked after them, pay for their houses and so on, this is amazing. I would just like to add my thanks to many many other thanks, the way refugees have been allowed the come into these countries. / Siham Brown
About the project

Bedford is a town of migration with a long and proud tradition of welcoming new communities seeking settlement. People have arrived seeking work, study or to join loved ones. Others have fled war, torture or persecution.
In 2016, The Higgins Bedford worked with Bedfordshire Refugee and Asylum Seeker Support to develop a display of 18 objects that refugees, asylum seekers and other migrants had brought with them from their countries of origin. Items were shared from countries including Syria, Palestine, Hungary, Kenya, Somalia, Ireland, Spain, India, Croatia, Zimbabwe, The Gambia and Poland. Postcards were created with pictures of the objects and a quote from each person who had shared an object about the object and what it meant to them.
The artist, Josepa Munoz, took photos of the objects and created prints in gauze that were also displayed in the museum. There was a launch event and an event for families and schools. The display was launched to coincide with Refugee Week 2016 – the theme of which was Welcome. The display in 2016 formed the basis of the project that has developed in 2017 into 'Voices – Different Pasts, Shared Future.
Personal journeys shared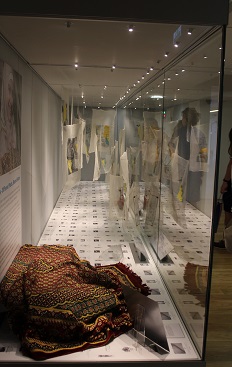 For the Voices project, Higgins Bedford has been interviewing refugees, asylum seekers and other migrants about their journeys to Bedford and reasons for settling here.
The display, which includes oral histories and tapestries of the objects shared in 2016, was launched at a major event on 17 June at which refugees from Syria and Rwanda spoke following a welcome from the Mayor of Bedford.
The archive contains the interviews recorded with the participants about the experiences of their personal journey from their country of origin to Bedford and the objects they brought with them.
Challenging perceptions
These stories have the power to challenge our perceptions of refugees' journeys to a place of safety. An Eritrean interviewee, now studying in the UK, describes the choice between leaving his home or being forced to join the military. Leaving meant risking death as soldiers were killing those who tried to escape.
[In refugee camps in Sudan a] lack of food and water meant a lot of people died. Then I moved onto Libya – where there was not enough food, and the smugglers mistreated the refugees… they were not allowed to talk or move, they hit you…seem like we not like humans.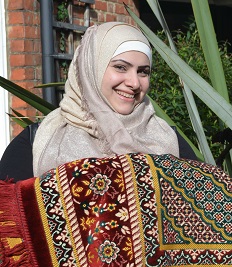 Baraah, from Syria, describes how, after giving birth to her son, her family was forced to keep on the move trying to find new safe spots. She described one incident where, while in Syria and on her way to get supplies and a doctor for her sick children, she and her oldest son were injured by rocket fire. After this injury she went to her parent's house and from there to Lebanon. She journeyed to Lebanon by car with her children leaving her husband behind as it was too expensive. '
We went by taxi to Lebanon and we had to pay for it. We were scared because the border guards in Lebanon were not allowing any Syrians to enter Lebanon so I pleaded with them to let me and the kids in as I was exhausted and very ill. Eventually he allowed us to get through.
Britain still a refuge for people
Gabrielle's family left Hungary in 1957. She describes how her parents talked with great gratitude about the reception that they had in Bedford. Reflecting on her relationship with Hungary now, she says:
There is a great deal of political difference which makes me realise how British I have become… They are nationalistic and the present Prime Minister has said 'Hungary for the Hungarians' and this is why I am happy, very happy to be part of England and the British Society that still says we are a refuge for people. We are multicultural, multiracial.
The Higgins Bedford would like to thank the interviewees, University of Hertfordshire, Bedfordshire Refugee and Asylum Seeker Service and Music in Detention for their support.
Images used courtesy of The Higgins Bedford
Find out more
You can access the summaries recordings and full transcripts of all eleven Higgins Bedford interviewees in the Oral History Archive.