Diaries from the team
On this page you can find extracts from diaries kept by members of the University of Hertfordshire team in Perth
Thursday 18 September
Joshua Edgcombe
The day to leave for Australia had finally come after weeks of expectation and preparation. Anyone who has flown from Heathrow will know that getting a flight at 8.40am is extremely awkward due to the fact there's no transport available which can get you there early enough to check in 3 hours before departure. Luckily, my mother was able to drop me off, though she wasn't best pleased at having to get up at 4:30 in the morning.
I headed off into the terminal to meet Helen, a fellow team member in the Full-Circle project. Getting through check-in and security went smoothly and after some waiting around we were boarding the plane. I was lucky enough to get the middle seat in the middle aisle. Babies to the left, to the right and in front!
The stop-off at Dubai went smoothly. A 4-hour wait for the flight to Perth gave Helen and I the opportunity to walk around the airport - the biggest and most luxurious I had ever been in. The flight left on time and we began the ten-and-a-half hour flight to Western Australia.
Friday 19 September
Joshua Edgcombe
With the changing of time zones it was Friday late morning as we began the descent into Perth. I hadn't slept a wink during either flight so I was feeling pretty exhausted. However the excitement of touching down in Australia pushed any thoughts of fatigue out of my mind.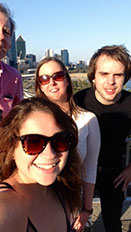 The plane landed on time without a hitch and we were finally in Australia! There was a minor issue with finding our bags when we got off of the plane, but once we found them we went straight out into the arrivals section of the airport where we were greeted by Andrew Green. We were soon met by Gemma, so the Full-Circle team members were all in the same place at the same time.
Andrew drove us down to Fremantle, where we were staying with hosts. We made comments on the pureness of the light and the heat. What struck me was the difference in vegetation and in bird species. The trees are drastically different to English trees, for example, and the birds more exotic - including their songs.
I was staying with University of Western Australia student Will, who was extremely welcoming. There were surf boards on the wall of my room, which was very homely. I was so tired I was falling asleep....but you don't travel 10,000 miles to have an early night! We drove into town for a drink. What struck me more than anything else was the price of a pint of a beer - much higher than in the UK! There was a real buzz about Fremantle.
Once back at Will's I went straight to sleep. I think I'd been awake for 40 hours straight!
Saturday 20 September
Joshua Edgcombe
For breakfast, Will took me to the beach! A very Australian way of starting the day. The weather was gorgeous and the beach stretched as far as the eye could see. We had Brazilian food from a little stand - I can't say what it was because I could barely pronounce it!
In the afternoon, Andrew picked us up to take us to King's Park in the centre of Perth, which has an amazing view across the city - incredible.
After a good amount of time enjoying the park we headed off in the car to a restaurant by the sea in Fremantle. From where we sat you could look right out into the ocean and hear the waves lapping up against the shore as the sun set. It was a moment that will live very long in the memory.
The meal was a lot of fun and during it Andrew briefed us on what to expect from the week and listened to any concerns we had. After talking things through, the team appeared more relaxed about the job ahead.
Sunday 21 September
Joshua Edgcombe
Sunday started with meeting Andrew early in the morning to be taken to Helen's hosts' house for breakfast - Joy and Mike Lefroy's. They'd arranged for a number of their ex-pat friends to join us....and once breakfast was over we set about interviewing them for the Full-Circle project.
I interviewed John and then Mike. John had come to Australia when still a child - which meant I had to think on my feet for some of the interview, but it went OK. Now I'd done my first interview I felt more confident when talking to Mike - and he had an interesting story to tell. We spoke together for a little over an hour and the interview had a very positive feel to it.
Once both interviews had been completed I met up with Helen and Gemma again. Everyone seemed relieved that we'd managed perhaps the most difficult part of this process, getting started. One thing I would say that hit me was how tiring interviewing is. Listening that intently and constantly thinking of questions to ask is a mentally taxing task.
Monday 22 September
Helen Tyler
Caught the free blue CAT bus to Fremantle train station for the journey to Perth. The four of us from the University of Hertfordshire were to have a tour around the Battye Library of West Australian History, conducted by librarian Steve Howell.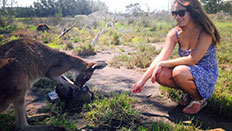 Steve related a history of the library, then gave us a feel for the kind of items kept in the archive and how they were stored. There was a great deal of material, including newspapers and maps as well as books.
The oral history archive room in the library contained many recordings and we were given the chance to listen to an interview. This gave us an idea of the end-result of our Full-Circle material - not least the importance of recording a clear and concise interview.
After lunch we all headed our separate ways to conduct that afternoon's interviews. I got back on the train and headed to the Subiaco district of Perth, where after a short walk I met Mr and Mrs Akerman. I interviewed them separately and then went on to an unexpected third recording with a neighbour, Brian Shaw. He used to live in the UK...and was an avid supporter of Sheffield United FC. A fascinating afternoon and a privilege to be allowed into these people's lives and to hear their stories.
Tuesday 23 September
Helen Tyler
Got up early, caught a bus from Fremantle station to Murdoch station, to catch the train to Warnbro station. Then a taxi to Bethanie Waters Lifestyle Village (a retirement village) where I was to interview two couples.
At about 11am I arrived at Christine and Colin Edward's home. Both had interesting stories. Colin originally lived in South Wales.
Val and Alan Bascombe, my next interviewees, lived just down the road. Val gave an interesting account of her experience of coming to Australia. Then I interviewed Alan, who has been a very prominent figure in cricket in Australia. He had been presented with a medal for his contributions to the sport. This was on display, with the Prime Minister of Australia's signature under it. I told him my Dad was a cricket fan and Val wrote a letter to him to take away, about all the cricketers Alan had worked with. Colin Edwards then arrived, gave me a lift back to Warnbro station from where I made the trip back to Fremantle. There I bought my first-ever sushi for dinner.
Wednesday 24 September
Helen Tyler
Spent my free morning at the Maritime Museum in Fremantle. There were some fascinating displays - as I'm an intern at a museum in England, I took a lot of photographs. I was interested in how they displayed different objects and the way they presented information in an attractive and interesting fashion for the public...for example, on display boards. There was a lot to see - a fascinating museum.
Caught the Fremantle CAT bus to the station and got on a Perth train, getting off at Grant Street Station to get to my next interview. Anne Annear greeted me with a cup of tea and a chocolate pastry. She originally came from Sussex and moved to Kenya, before coming to Australia.
Anne told some fascinating stories. Some of the situations she had to deal with in Kenya, at a time of unrest in the country, were very disturbing. After the interview, Anne showed me her beautiful garden...she was rightly very proud of it!
Wednesday 24 September
Andrew Green
My attention turned today from working alongside the University of Hertfordshire team to the second of two training sessions for University of Western Australia students taking part in the project. A steep learning curve for all! The UWA Crawley campus down by the famous Swan River is a marvellous space - low-rise buildings and masses of vegetation giving the site a cool, green hue.
My partner in running the workshops was the distinguished Australian broadcaster and oral historian, Bill Bunbury. An ex-pat of many decades, Bill lives down in Margaret River, nearly four hours away, but he was up and down the freeway like a yo-yo, such is his enthusiasm for Full-Circle.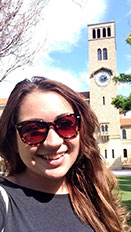 The accent in the workshop was on various exercises designed to get the students swiftly into the skills of asking questions effectively. Being Aussies (plus a few international students, not least several from the USA) they threw themselves into things with great enthusiasm: "We can do this!!!" Bill was in charge of training in the use of the very smart recording machines which were available. Asking questions while keeping any eye on equipment is no easy thing...but it didn't seem to bother this bunch of students!
For a good few in this class of around forty, the challenge of interviewing real people - ex-pats keen to take part in the Full-Circle project - was but hours away. The indefatigable team at UWA - Professor Jenny Gregory, Lucy Hair, Brenda Dagnall and a team of student volunteers - had done an amazing job in organising a timetabled evening of recordings on-campus. Jenny Gregory had received a fabulous response to a radio interview promoting the project, but converting the interest of ex-pats into a schedule of interviews is quite another matter. It was carried out to perfection. The ex-pats arrived on cue to be steered to the music practice rooms which served as recording studios for the occasion.
A few understandable nerves on show from the students, but they evaporated once things were under way...interviews take on a life of their own. Delightfully, the UWA Vice-Chancellor (and British ex-pat) Paul Johnson signed up to be interviewed - a task carried out with aplomb by US exchange student, Matt Matasci.
A long day!! Thank goodness for access to the UWA Club to round things off with a reviving steak and a glass of Margaret River's finest...
Thursday 25 September
Helen Tyler
A free morning, so travelled to Perth to visit the Museum of Western Australia. Some fascinating exhibits, including a dinosaur exhibition. Took lots of photographs - in fact my camera battery ran out because I'd taken so many!
The weather was lovely, so I sat outside the museum on a bench with an ice cream before finding a taxi to get to my next interviewee's home.
Pam Hatherley originally came from Bristol to Australia and she was a pleasure to interview. Afterwards she showed me around the garden where she lived in a retirement block of flats, before a taxi arrived to take me to City Beach, where John and Lorna Hinton - who know Hatfield well! - had arranged a barbecue and a group of British ex-pats like themselves for Andrew and me to interview.
I arrived early so walked down to the beach and sat at a picnic table, organised some notes, read and watched the sea (it was a bit surreal!).
The Hintons had a lovely home and were great hosts. We had six people to interview in all in addition to eating a delicious meal! Everyone was very sociable, and some great stories were told. A long, tiring (but successful and enjoyable) day. Straight to bed when I got back to Fremantle.
Saturday 27 September
Andrew Green
Exhilarated at how well the University of Hertfordshire interview schedule has gone across the week! The stamina shown by Gemma, Helen and Joshua has astonished me - and they've clearly grown into the tricky business of interviewing as the week has gone on. Once you start to relax, helping people tell their stories is a truly magical experience...and I can see these three students have well and truly caught the oral history bug.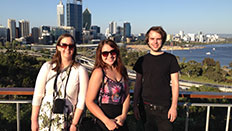 Joshua and Gemma are taking a well-earned day-off, while Helen has just light duties. For me, there's the business of helping oversee a whole day of interviews by UWA students back on the Crawley campus. The morning starts with a brief but highly energetic storm which buffets Perth after breakfast, bending palm trees and obscuring views across the city.
All that's soon out of the way, though, and the first job is to touch base with the UWA media students filming the event - a really well-motivated team who have a very professional air about them.
Again, the ex-pats (with the odd exception) turn up as per the beautifully arranged schedule, many of them clutching memorabilia in the shape of photos, letters, immigration documents and the like, which help in the telling of their individual migration stories. Full-Circle has quite clearly captured all their imaginations...they're only too eager to spill out their stories. Such a thrill and a privilege to meet them.
What really strikes me again today is the contrast between the slightly tense mood of the UWA students before their interviews and the light in their eyes when they return to the operations room afterwards. They swap stories excitedly with fellow students. Yes, they get it! For Jenny Gregory and me it's one terrific pay-off for the temerity we had in plotting such a formidable project. This is an exercise that touches all who take part, in whatever role.
Slowly, the timetable winds down and for the first time since arriving in Perth over a fortnight ago I feel able to just think about relaxing. And we do that properly with a delightful dinner to round off proceedings at the Royal Freshwater Bay Yacht Club (echoes of the Isle of Wight, of course) by the Swan River. This embraces various people who took part in Full-Circle - including Helen and Joshua from the University of Hertfordshire team and the wonderful hosts who offered them accommodation down in Fremantle during their stays - Joy, Mike and Will.
Hard to believe that this time tomorrow, the four of us from the University of Hertfordshire will be in the air striking out for home. But this isn't the sort of trip - or the sort of project - that you forget in a hurry. 'Life-changing' is an expression easily used in a fit of hyperbole... but I reckon Full-Circle will prove to have left an indelible mark on all who took part in the Perth half of the project.
Thanks to all involved, not least our wonderful hosts in the great city of Perth, including the various locals who offered us hospitality for the duration. We'll be back!
And to the University of Hertfordshire students - Helen, Gemma and Joshua - a special thank you for travelling halfway round the world to work so incredibly hard!