Living knowledge
In June 2016 Europe's Living Knowledge Network will hold its seventh annual conference in Dublin. It's a platform for public participation in science and technology - but can historians and heritage professionals learn from this movement too?
What is Living Knowledge, how can we use it and what are the pitfalls when we do?
Kate Ayres
Student at the University of Hertfordshire and Deputy Director of the Milton Keynes Museum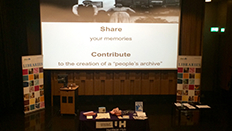 'Can historians and heritage professionals learn from the Living Knowledge movement?' is the question posed by this latest podcast. The Living Knowledge Network encourages community-based participation in science and technology research. This Science Shop movement, begun in the Netherlands in the 1970s, has recently piqued the interest of academic historians, including Dr Sarah Lloyd, a founding figure of the Herts Heritage Hub, who finds this approach novel and interesting in relation to history. The notion that members of the public can be valid contributors as both researchers and participants in research projects, of which she is an advocate seems, on the whole, to sit discordantly with traditional academic research, but within the realm of museology and heritage practice this is not a new concept.
Since the 1970s museums and heritage groups in the UK have unconsciously been working in tandem with this Living Knowledge movement. I'm not referring to the National or Local Authority Museums who present an agreed singular version of the nation's history and heritage; a top-down approach, referred to by Laurajane Smith as the 'Authorized Heritage Discourse' (AHD), presented by experts and professionals as the Keepers of the past which therefore must make it true. I'm referring instead to the realm in which I am familiar: independent social history museums.
These museums are run predominantly by volunteers from the local community with a vested interest in the museum. A familiar sight in many small towns throughout the UK, independent social history museums are the antithesis of the AHD. In some cases they were set up by a group of people in a bid to preserve a vanishing way of life and maintain their identity during a period of rapid change (True's Yard and Milton Keynes Museum), whilst for others it was a natural progression for members of the community to come together to tell the story of their town and surrounding area (Swaffham Museum and Ely Museum). But, unlike the Nationals, these museums champion the lives of ordinary people, stories of whom everyone can relate and which have often been rendered invisible by historians.
The collections that make up the vast majority of these museums are, by most standards, pretty mundane; 19th and early 20th century items donated by members of the local community who would either dump them on the doorstep, mistaking the museum's acquisition procedures to be the same as the local charity shop, or they would pop in unannounced at inconvenient times having spent the weekend going through the loft of their dearly departed family member. 'I was going to put them in the skip, but then I thought you might want them…' a plastic bag would be handed over filled with grannie's bloomers; washing tongs; codd bottles; gas mask; knitting patterns; a bed pan and a selection of dog-eared magazines connected to the Coronation or the Jubilee. Loathe to throw away their 'family's history' -anything pre 1980 is fair game- they transfer that responsibility onto the Curator who, through (delete as applicable) guilt at the octogenarian's long trek from the bus stop in the rain/ lack of lunch/desperate for the loo, temporarily forgets the Acquisition and Disposal Policy and with beaming smile, as if they were offering to donate the crown jewels, presents them with an Entry Form. Yup. sigh. Please sign here. Museum stores around the country are bursting at the seams with things people no longer want but feel that it would somehow be remiss to lose for posterity. As one Russian visitor was recently overheard saying, 'Where I come from, our museums are filled with exquisite objects. In this country you put any old rubbish on display and call it a museum'. But is it any old rubbish? These belonged to someone and were once valued objects. Who are we, as Curators, to judge what is and what is not worth preserving and displaying?
An exhibition I recently co-curated with volunteers as part of the STACess: MK project called How Extraordinary the Ordinary: Exploring How Everyday life has changed has provided a fascinating glimpse into the life of one family who lived in the same town for over 100 years and threw nothing away. Mounted in a vacant unit in the shopping centre, the exhibition was based on a collection from Living Archive, an organisation that records the oral histories of the people who live in Milton Keynes, enhanced by objects from other heritage organisations and individuals. Displayed under eight themes (school, domestic life, celebration, etc) every one of the 17,000 visitors, even those not from the area, could identify with and relate to this human story and the exhibition provided legitimacy to these people's memories and to their version of history. Living Knowledge therefore stands alongside the traditional historical narrative to add colour and bring life to the 'authorized' version of the past; both versions are equally valid and together they make history and heritage relevant to the present.