Heritage and social enterprise
Heritage and Social Enterprise: The past is big business. But, increasingly, there are organisations working in the heritage sector that believe the past can offer much more than just profit.
These 'social enterprises' look to use history to help develop skills, create a sense of place, and help economic regeneration. But, Vanessa Collingridge asks, just how realistic are these aims and what is the role of social enterprise in achieving them?
Sophie Orpen
Centre Administrator for the London Centre for Public History and Public History MA student at Royal Holloway, University of London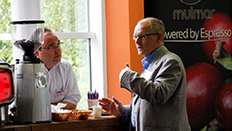 Social enterprise is widely acknowledged to be a tricky concept to define. According to online definitions, it is understood to be an organisation that applies commercial strategies to maximize improvements in human and environmental well-being. Despite the difficulties in defining this concept, this podcast demonstrates the benefits that social enterprise has had, both to public history and the heritage industry, and also to those who actively engage with it.
Using the examples of Middleport Pottery in Stoke-On-Trent and 'Company Drinks' based in East London/Dagenham, the University of Hertfordshire Heritage Hub Podcast demonstrates the huge benefits that social enterprise can have on local communities. One of the most important benefits raised in the podcast is the potential for social enterprise to bring economic rejuvenation to areas that are often overshadowed by big cities. For example, Middleport Pottery is currently attracting a huge amount of talent in ceramics from all over the country due to its historical connections. Reiko Keneko, a ceramic designer who works at Middleport Pottery, speaks on the podcast about how important the area's history of pottery and ceramics was to her when deciding to move to Stoke-On-Trent from London. Her own personal connection to her craft has only been heightened from working in an area where there is access to such a vast amount of history. Reiko's experience is one that is reflected in many others at Middleport Pottery.
According to its website, Middleport Pottery's three-year and £9 million regeneration program, from the Prince's Regeneration Trust and the Heritage Lottery Fund, that they underwent from 2011 has been incredibly economical. They claim that 50 jobs have been saved from this social enterprise movement, as well as being able to create 66 brand new jobs within the company itself. Not only has this development been beneficial for jobs, but Middleport Pottery is also benefitting from much more recognition within the heritage industry. Their site now contains visitor attractions such as a gift shop, a café, a visitor centre, and activity spaces for public workshops on pottery. As a result, they have been lucky enough to win eight awards since their opening.
'Company Drinks', an up and coming new project has also enjoyed success with social enterprise. Tapping into the fruit and hops picking history of Dagenham and the London Borough of Barking, Company Drinks have set up a series of workshops for residents within these areas. According to their website, their workshops cover picking tips, processing, bottling and branding, trading, and social and cultural events. Even though Company Drinks is a fairly new example of social enterprise in practice, they have enjoyed vast success. Hundreds of local residents have been involved in the past two years, accumulating in 18 new drink varieties being produced.
However, despite the success stories that we have heard on this podcast, social enterprise can be hit and miss as a heritage device. It is not likely that all social enterprise movements will automatically take off and be economically and culturally successful. The examples given in this podcast have been incredibly successful and I believe it is important that we explore the reasons why these two social enterprise movements have flourished. Understanding the reasons why Middleport Pottery and Company Drinks worked is especially crucial when considering setting up future social enterprise movements.
Overall, the sense of nostalgia for the past in these projects has been incredibly beneficial. By tapping into the past areas of industry that each town once benefited from, both projects were able to engage wide popular interest. Nostalgia has proved to be a key tool in social enterprise movements, and is particularly successful when it comes to engaging with those who otherwise would not engage with history. Projects such as Middleport Pottery regeneration and Company Drinks remind people that the history of their area is crucial to their lives today, whether they have considered it or not. Social enterprise ultimately makes many appreciate their heritage, particularly within smaller communities, and it has led many to consider history in different ways.
---
Sources