Academic and community partnerships
The importance of the links between universities and their wider communities has come to the fore in recent years - arguably because of the Research Excellence Framework.
While local and regional historians have a long tradition of working in collaboration with communities, what can we learn from other disciplines, and what are the benefits and challenges for those involved
Kathleen Eaton
MA Public History student at Royal Holloway, University of London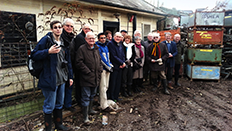 The links between history in universities and the wider community have become increasingly prominent in recent years and this podcast touches on all the many reasons these connections are necessary, and what steps are being taken to build these connections. Impact and engagement, the latter continuously appearing throughout the podcast, are the words that act as a guide when it comes to community outreach. But Steve Poole, Professor of History and Heritage at the University of the West of England, believes this idea of knowledge exchange, where an authoritative voice is spread to the masses through a public talk and called public history, is wrong. But, as the podcast points out, maybe the problem is simply that no one really knows what public history really is.
Anna Whitelock, Director of the London Centre for Public History at Royal Holloway, explains that public history and popular history are used interchangeably, and that can be somewhat misleading. There is a pervading idea that popular history is 'history light' which is incorrect. Rather, public history is history which matters to people and is still changing and not just important to historians. Justin Champion, Professor of the History of Early Modern Ideas at Royal Holloway, believes that no one really knows what public history is but reasons that a process of engagement and empowerment needs to be put at the forefront of public history alongside communication. The podcast makes a point to explain what engagement means within the context of public history.
Sophie Duncan, Deputy Director of the National Co-ordinating Centre for Public Engagement, explains that within this context, engagement describes what activities universities can do that are mutually beneficial which is exceedingly important. This means that it does not cover things such as the university marketing the great work it's already doing but rather things outside the university. The examples given by Steve Poole and Justin Champion bring up excellent points of what can be gained from this engagement with the public. As Steve Poole explains, he wants to know how his views fit with people from outside the academy and how they engage with the past. And he brings up an excellent question: what happens when we work together and history becomes an applied art? The points brought up by Justin Champion are just as valid. He expounds on the idea that opening up the resources that universities manage to as broad an audience as possible is necessary. Not only that, the public cannot be treated as just consumers but rather as an active and capable part of a dialogue.
But, as the podcast sets out explore, with which communities should partnerships be made? As Dr Lucy Robinson, Senior lecturer in History at the University of Sussex, points out, one of the problems when trying to set up a partnership with a community is that the assumption is made that there is a barrier between the two. And, as she explains, it is usually more formal organisations that partnerships are made meaning that it is not the community as a whole that is partnered. And often, as Dr Julie Moore who is working WWI community histories at the University of Herefordshire explains, even when the community is brought in, there is a wariness to speak with academics as many members of the community question why they are being spoken with.
The podcast keeps in mind that while connections are necessary between universities and community groups, there are associated challenges explained by Karen Brookfield, Deputy Director of Strategy at the Heritage Lottery Fund. When the Heritage Lottery Fund questioned community groups and universities, these challenges were made apparent. According to Karen Brookfield, community groups felt intimidated by the universities and the structures were not always understood and open offers were appreciated since many people were not sure if their input was wanted. Conversely, universities answered that they were not always ready to accept the challenges community efforts offer as the timetables are often hard to stick to and it is hard to make people come together to acquire the information needed as the universities have their own timetables to adhere to. But, as the podcast so succinctly states, could the answer be cake? As Dr Sarah Lloyd Chair of the University of Hertfordshire Heritage Hub explains, people want to talk and there is no better way to speak with a stranger than by providing something to eat and drink.
But, as the podcast explores, each collaboration between a university and a community group will be different. I was interested to hear of the work done through 'Interchange' project as well as places that have helped the project such as the heritage centre in the Kirkdale district of Liverpool that is in a café, allowing people to relax while also having the chance to learn the about the heritage. But, as much as this community and university collaboration is the future, the podcast leaves off with a word of advice from Lucy Robinson. She warns that when working with communities, the goals have to be clear: are the projects more about the funding and bolstering a community group of university up or is it truly about bettering the world?
The topics explored within this podcast brought up excellent points regarding the collaboration between universities and community groups and did well covering both the challenges and the possible solutions. It was certainly thought provoking, leaving the listener to mull over what can be done to bring community groups and universities together in the future.