T Levels Qualification; Ofqual's Consultation
In November 2017, the Government launched a consultation on their plans for the introduction of a new T Level qualification as a high quality, technical alternative to A levels.
T Level qualifications are intended to raise the status of technical education, and ensure that individuals develop the technical knowledge and skills needed by employers and industry.
The Government's consultation closed in February and their response was published in May. The consultation response includes a technical annex containing key qualification design requirements including standards, grading, procurement, funding and quality assurance and regulation.
Find out more about the consultation.
The Government's ambitious timetable for the introduction of the new qualification in 2020 has raised some concerns. However, in May 2018 the Secretary of State for Education re-affirmed the Government's commitment to introduce new T Level qualifications in 2020.
T Levels will allow students to study broad occupational areas before specialising in specific occupations. They also provide an opportunity for students to apply their knowledge and skills by completing a substantial work placement.
T Levels will consist of:
a Technical Qualification (TQ)
a T Level industry placement
maths and English (set at level 2 to align with requirements for level 3 apprenticeships)
any other occupation-specific requirements/qualifications, as set out by the relevant T Level panel e.g. licence to practice
any further employability, enrichment and pastoral (EEP) provision (as required in all study programmes).
Students must complete all of these to achieve a T Level; students will receive an overall grade for their T Level.
The diagram below illustrates the structure of the T Level programme.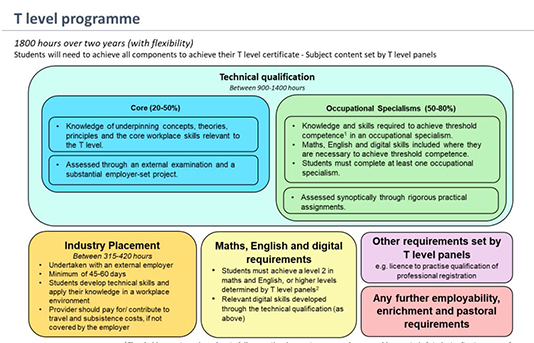 Regulating Technical Qualifications. Consultation on Ofqual's approach to regulating Technical Qualifications. July 2018. Page 6.
Phased introduction
T Levels are being introduced in phases with 3 intended for first teaching from 2020. The T Levels and associated Technical Qualifications being introduced in 2020 are:
digital production, design and development (digital route)
design, surveying and planning (construction route)
education and childcare (education and childcare route).
The design, content and administration of this qualification will require careful co-ordination between a range of dependent parties.
The Department for Education has set the assessment design and other requirements of the new qualification. The Institute for Apprenticeships (the IoA) has a statutory role in setting employer-led standards for each T Level and developing and approving new qualifications: it has overall responsibility for the quality assurance of T Levels. Awarding Organisations, employers, schools and colleges will have a central role in the delivery of the T Level.
Ofqual has regulatory responsibility for the Technical Qualification element of the T Level programme.
First consultation
On 10 July, Ofqual published its first consultation on its approach to the regulation of the the new Technical Qualifications which form a part of the government's T Level study programme. The consultation includes three Stakeholder engagement events held on 23, 24 and 31 July in London, Coventry and Manchester respectively.
The consultation document can be accessed HERE.
Respondees have until August 06 to submit their responses. This is another ambitious timeline, but CIEA members are encouraged to engage with the process for what will be a very important qualification for thousands of young people.
In order to regulate Technical Qualifications in a way that meets Ofqual's statutory objectives, they propose to put in place Qualification Level Conditions and Guidance designed to:
ensure that skills and knowledge are assessed reliably to provide an accurate indication of candidates' abilities
secure comparability where the same content is assessed in different Technical Qualifications
secure comparability where it is appropriate to do so between occupational specialisms
maintain grade standards over time within each Technical Qualification;
ensure a consistent and appropriate level of demand.
The Consultation document runs to 71 pages and contains 52 questions. However, at the Stakeholder Engagement event in Coventry, Ofqual officials were keen to stress that respondents should only focus on what they see as the key questions.
Obviously Ofqual is interested in views on all areas, however at the Stakeholder Event they highlighted the following areas:
setting and marking assessments
results and certification;
retakes.
The event was run through structured input from officials covering the range of interest in the consultation document, followed by discussions and questions on key aspects. Officials placed within each of the discussion groups recorded all points raised by delegates.
Under Setting and marking assessments, Ofqual focused on the following points for discussion:
should assessments take place once a year? In May/June?
should all the assessments be set and marked by awarding organisations?
what will the impact of this requirement be on; centres? awarding organisations?
what additional controls will be needed to ensure the authenticity of assessment evidence and to protect the security of assessments?
Under results, certification and retakes, Ofqual focused on the following points for discussion:
What will the impact be of awarding organisations not issuing certificates for TQs?
What information about results will centres require to decide whether to request a review or to retake an assessment?
Do you have any comments on our proposals to allow reviews of marking and appeals similar to those used in GCSE and A level qualifications?
What will the impact be of requiring retakes to only take place during the May/June assessment series?
Should students have to retake all parts of the element they are retaking?
The discussions raised a number of interesting points and concerns. The way in which standards will be set and maintained using a regulatory approach developed for general qualifications is an area of particular interest to awarding organisations more used to competency based assessments. Further, the role and relationship between the respective key bodies raises further issues, for example in assessment and qualification design, accountability and independence. At this early stage it is not possible to report the range of likely responses to the consultation. However, following this consultation, Ofqual will announce its decisions on the way forward in September and publish a further consultation on the details of the Conditions and Guidance. A final articulation of the Conditions and Guidance will be published at the end of 2018.
If you want to see the slides presented by Ofqual, please follow this link:
Regulating Technical Qualifications: Ofqual Consultation event July 2018
What is clear at this point is that the consultation provides the opportunity for those with an interest in national qualifications to be heard. Responses do not have to cover all of the questions in the consultation.
Share your views
CIEA members are encouraged to share their views with the CIEA to help inform our response. You can do this by e-mailing: administratorciea@herts.ac.uk
Please title your e-mail – Ofqual T Level Consultation.
Responses directly to Ofqual can be made in three ways by:
completing the online response
downloading the response from the consultation homepage and either
emailing responses to consultations@ofqual.gov.uk – including the consultation Regulating Technical Qualifications in the subject line of the email and make clear who you are and in what capacity you are responding;
or posting responses to: Regulating Technical Qualifications, Ofqual, Spring Place, Herald Avenue, Coventry, CV5 6UB, making clear who you are and in what capacity you are responding.
The Consultation response form can be found by following the link below:
Ofqual's approach to regulating Technical Qualifications
Deadline for responses
Consultation responses must be received by Ofqual no later than Monday, 06 August 2018 at 17:00.