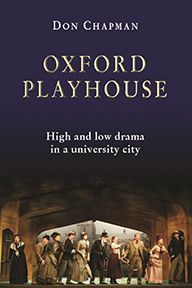 About the book
Don Chapman tells for the first time the story of the Oxford Playhouse, to coincide with the seventieth anniversary of its present home in Beaumont Street, Oxford.
He traces the history of this great theatre back to its earliest roots in a production of Agamemnon in 1880 which led to the founding of the Oxford University Dramatic Society, the rebuilding of Oxford's New Theatre and, eventually, the launch of the Playhouse itself.
Jane Ellis was the 'young, obscure actress' from London who made it happen, motivated by a desire for a venue where she herself might play decent roles. She asked J.B. Fagan (who was to produce the first successful Chekhov play in England) to be the theatre's first director.
Subsequent directors who made their mark included Stanford Holme, Eric Dance (who rebuilt the theatre in Beaumont Street in 1938), Frank Shelley, Peter Hall, Peter Wood, Frank Hauser, Minos Volanakis, Gordon McDougall, Nicolas Kent and Richard Williams.
More about the book

The book also celebrates a galaxy of actors including Flora Robson, John Gielgud, Maggie Smith, Ronnie Barker, Judi Dench and Helena Bonham-Carter and records the first steps of countless students from Peter Brook to Maria Aitken, Diana Quick to Rowan Atkinson, including a few, like Edward Heath and Joanna Trollope, who gained distinction in other spheres.

Most fascinating is the role of the University of Oxford. Using the legal powers invested in Vice Chancellors, Dr Lewis Farnell almost stifled the Playhouse at birth in 1923. And even from 1961 to 1987, when the Playhouse was the University Theatre, Dr Chapman describes its relationship with the University as 'a shotgun marriage that ended in a messy divorce'.

Since reopening in 1991 following a four-year closure, the theatre has flourished as an independent trust with support from the University, Arts Council England and other donors, staging a varied programme to delight audiences old and new and benefiting in the process from the sea change in academic attitudes to drama.

Thea Shurrock, Rosamund Pike and Holly Kendrick are just three of more recent students who have followed in the footsteps of Michael Palin, Imogen Stubbs and Mel Smith and made names for themselves.

Read a sample chapter

About the Author/s:
ISBN: 978-1-902806-87-7 Format: Paperback, 368pp Published: Mar 2009
Any questions
Contact us at UH Press if you have any queries or would like to find out more about this book.