Oral History Showcase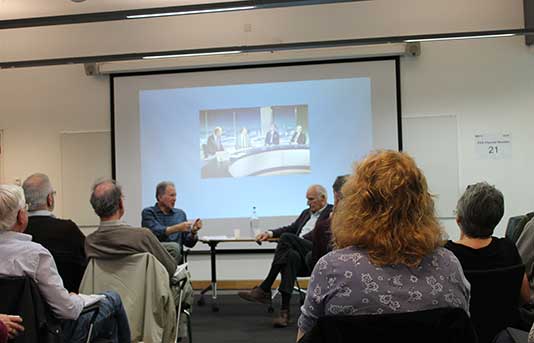 On the 25 April 2018 the University of Hertfordshire hosted an Oral History Showcase to a packed and appreciative audience from both UH and the local community. The Showcase included a day of presentations and reflections on the power of oral history for individuals, for communities and for posterity.
Highlights of the day included:
Peter Snow and Andrew Green talking about the art of asking questions
Anne Murphy describing the work of the UH Oral History team over the past decade, aided by student Laura de Haan
Australian oral history broadcaster Bill Bunbury delivering a graphic lecture - with sound-clips - on the importance of land to Indigenous peoples and settlers in Australia
A gripping presentation by the Fire and Ice 'verbatim' theatre group, who use oral history testimony to raise awareness of human rights issues here, gender equality and UK immigration procedure
The Oral History Team received so many messages of thanks and positive comments about the day. Here are just a couple of them:
...you came up trumps with an excellent, interesting and memorable day.
…a brilliant atmosphere from the start. The whole day was a real insight into what the Oral History team are doing at the University.