Graduate Photo Days
Our graduate photo days are an opportunity to have your photograph taken in graduate robes individually and/or with your family and friends.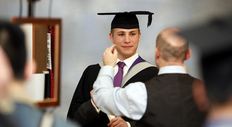 Due to the limited availability of our photography and robing company, we do not yet know when our next photo day will be. If you would like to be notified once we have confirmed the date of our next photo day, please email us on awards@herts.ac.uk and include your full name, student ID and preferred email address.
Please note, you can only attend a photo day if you have paid your academic debt. You must also have a locked (confirmed) full award on our system.