Graduate Photo Days
Our graduate photo days are an opportunity to have your photograph taken in graduate robes individually and/or with your family and friends.
We are delighted to confirm that our next photo days are being held on Friday 17th and Saturday 18th February 2023 in the Chapman Lounge, College Lane Campus AL10 9AB.
Please follow the link here in order to register: REGISTER HERE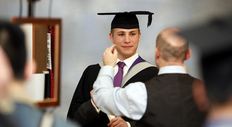 Please note, you must have registered and booked a slot in order to attend on the day.
There is a deposit of £10 to complete your booking that will be redeemable off of the price of your photograph purchase at the end of the session.
Your photography slot includes the use of the gown within the photo studio ONLY and this may not be taken out of the studio at any point.
For queries regarding booking your photo day slot, please contact: graduations@htempest.co.uk
If you or a guest require a visa support letter in order to attend your photo day slot, please email awards@herts.ac.uk with your student ID, and a screenshot of your tempest booking confirmation email so that we may assist you with this.
Please note, you can only attend a photo day if you have paid your academic debt. You must also have a locked (confirmed) full award on our system.