Time for the CIEA to find its 'voice'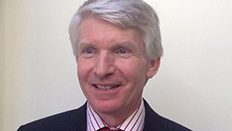 by Simon Sharp, CIEA Chair
A big challenge facing everyone involved with the CIEA in the coming year is to raise our profile in the wider educational and assessment community. The relevance of the CIEA and what it stands for - professional recognition for those involved with assessment + high-quality training and development opportunities to enhance knowledge and skills in assessment - has never been greater.
The recent survey of our members indicated strong support for the CIEA to raise its profile. The feedback indicated clearly the expectations:
the need for 'voice and visibility' of the CIEA as part of the strategy to grow the organisation;
wanting to hear more from us on current assessment issues and themes;
providing opportunities to share and learn more about good assessment practice.
These three points will guide our approach, which needs to include two inter-linked elements; One, the 'inward facing' (making more use of the views, opinions and activities of Members by giving them opportunities to share these with other Members as well as a wider audience in the assessment community) and two, the 'outward facing' (responding to external opportunities and commenting on developments and events, contributing as an informed and professional member of the assessment community).
The CIEA 'voice'
The CIEA 'voice' must reflect what Members tell us that they value about the organisation and what we seek to promote. The trustees have therefore agreed the following broad principles which should shape our 'voice'.
Support professionalism
CIEA was set up to recognise, support and promote assessment as a professional activity, wherever assessment takes place. Our 'chartered' status puts us in a unique position to be the advocates and a 'voice' for those who carry out assessment roles by combining the highest professional standards with personal integrity. Being Chartered is a privilege that has to be respected.
Stay assessment-focused
To focus our responses/comments on the assessment issues, not on the wider political dimensions (such as using a problem on a key stage/GCSE paper to suggest that means the whole National Curriculum assessment/GCSE system is flawed). The CIEA is a professional body, not a pressure group.
Provide a knowledgeable & credible perspective
To build a sound reputation within the wider assessment community, all our own contributions must be solidly grounded in sound assessment knowledge and research to have credibility.
Be positive about good assessment
We set out with the intention of being positive about the value of good assessment practice and how/why that benefits all users of assessment (parents, teachers, students, employees, employers, politicians etc). All assessments should be fit for their intended purpose and recognise that it is central to the teaching and learning process.
Demonstrate independence
CIEA should be, and be seen to be, an independent body that is not automatically aligned with other stakeholder organisations in the wider assessment community. It is not a 'trade union' or 'pressure group' for examiners/moderators, but it is 'pro' the people who carry out these roles; it is neither 'pro' or 'anti' the awarding bodies who employ/contract examiners or set assessments; it is neither 'pro' or 'anti' the regulatory authorities. Our objective should always be to promote high quality fit for purpose assessment in all its forms without fear or favour.
Get involved
If we are to raise the CIEA's profile, and ensure we are reflecting Members' views, we need people to get involved in discussions on issues and share their views and opinions. We also need to share good practice, research and development in assessment theory and practice. And yes, spread the word with their colleagues about the CIEA. To help us do that, we have recently set up a Facebook user-group and we want as many members as possible to join and use it. We also have the Twitter account, and the CIEA website.
So if there is an issue you think we ought to be commenting on, or drawing attention to, say so and tell us. We can then flag issues or initiatives of interest to other Members. We will also use our website, Facebook group and Twitter account to notify members of CIEA activities.