A message from the CIEA Chair
by Simon Sharp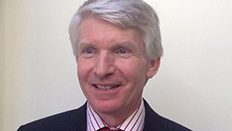 First of all, I would like to wish all members a Happy New Year. I am sure I am not the only one glad to see the back of 2020!
We enter the New Year with unprecedented uncertainty surrounding the assessment arrangements to be implemented in our schools, colleges and training organisations in 2021. We also have significant divergence between the approaches currently being adopted in the four countries of the UK. And there seems every likelihood of more disruption to come in the months ahead, albeit it variable between different areas of the UK depending on the incidence of COVID cases.
Where the political decisions have been taken that 'exams aren't running', and some form of teacher assessments will be used to recognise students' achievements, the detail of what and how remains to be determined.
Where the 'exams are still running, just later than normal' approach applies, announcements indicating that 'generous grading' and 'predictable content' will feature in 2021 have yet to be clarified. The fact that both proposals appear at odds with the underlying purpose and principles on which our qualification system is based is not acknowledged. We await the details of what this means in practice. Meanwhile, the language of 'softer outcomes' raises the issue of fairness – not just for those gaining their qualifications in the 2021 cohort, but for all the previous and future cohorts.
The DfE announced that it is setting up its own 'expert group' to monitor learning loss and advise on suitable arrangements for England in 2021. However, as at mid-December, no remit for the group had been published nor any members named. So it remains to be seen if this group will actually challenge and inform DfE decision making. If it helps to avoid the unedifying public wrangle between DfE and Ofqual in summer 2020 over the feasibility about 'using mocks' it might prove valuable. But what its role is in relation to Ofqual's statutory responsibilities for maintaining the integrity our qualifications system remains unanswered.
The key issue remains that our young people in education and training, across the age range, have experienced significant disruption to their learning with the potential for more to come in the Spring and Summer terms. But more than that, there are huge differentials between those who have maintained access to quality online teaching and support, and those who for whatever reasons (linked to their schools or family circumstances) have not. The most obvious criticism that can be levelled against the 'put exams back three weeks' approach is that it simply maintains and most likely extends inequalities, because that will benefit the most socially advantaged pupils or those who have enjoyed greater access to learning.
The inequalities in accessing learning and what that means for providing 'fair' assessment arrangements in 2021 represent a major challenge to the politicians overseeing our systems. The credibility of our assessments systems, and public confidence in them, is about to undergo another stern test.