A message from Simon Sharp, CIEA Chair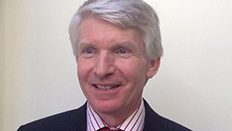 Yet again, I must start by hoping that all our members and their families are safe and well. As we enter the fifth month of restricted movements, and the summer holiday period is finally underway, it is timely to start looking ahead. For me, two issues will undoubtedly dominate the public debate about education and assessment over the next three months. And as we move into the traditional 'silly season' for media stories, it is likely that both will command wide coverage in the media.
The first is the outcome from this summer's examinations and assessments. The results for GCSEs, A Levels and a wide range of vocational qualifications will be published, with awards determined by considering a range of evidence. From some of the media coverage so far, you could be forgiven for assuming that the only consideration will be teachers' and lecturers' estimates of students' performance. But as we all know, that is only one piece of the evidence that will be taken into account as part of the statistical analyses and moderation to be undertaken by the awarding bodies, overseen by Ofqual. The possibilities for 'discrepancies' between the awards issued and the estimates submitted should not be underestimated. Explaining the processes followed and thereby managing the expectations of students and their parents, as well as teachers and lecturers, will pose a significant challenge.
The second issue is the debate about suitable arrangements for assessment in 2021, given the extended disruption to students' learning programmes in the academic year that has just ended. Ofqual has already issued consultations on what might be appropriate, including moving the 'assessment window' for examinations and assessments to allow for more teaching time and looking at modifications to examinations and assessments. No doubt similar thinking is taking place in relation to the National Curriculum assessment regime. Two dilemmas underpin all of this planning: how to maintain continuity and standards with previous years while being fair on the cohorts that have experienced prolonged interruptions in teaching and learning; and, crucially, whether it is currently possible to determine arrangements for 2021 when there is a serious possibility of further disruption for pupils and students if and when local or even national restrictions are imposed to contain outbreaks of COVID cases. I think we can expect the debate about 'what is fair for 2021' to run for most of this year, and to be hotly contested.
These two issues are likely to impact on many of our members and as always, I would encourage you to share your views and experiences with the CIEA as we move through the summer and into the autumn term.
I hope all our members enjoy a safe summer holiday period.