60-second interview: Carina Balbo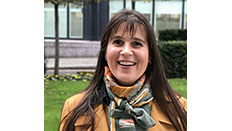 Carina Balbo is a CIEA Associate member. She is the Managing Director of My Language Hub Ltd.
What is your role in assessment and how long have you been in this role?
After moving from Argentina to the UK in 2002, and while I was setting up my translation business, my experience in language teaching and love for languages in education led me to become a Language Examiner in 2004. I have worked for Cambridge Assessment, AQA, and IBO as an Examiner of Spanish and English, as both First and Foreign Language. I have marked from Cambridge ESOL Main Suite exams, IELTS to GCSE and IB Diploma Programme. I have recently been promoted to Team Leader as well, and sharing all my experience so far with other new examiners has been really rewarding.
What are the rewards and challenges of your job?
I think one of the major challenges when assessing a language exam is to interpret the mark scheme in a very logical way to maintain objectivity at all times. Probably the best things come when you least expect them. After marking the Cambridge IGCSE TM in First Language Spanish for over 15 years, earlier this year I was approached by the publishing house Hodder & Stoughton to collaborate as the co-author on a textbook for the new 2022 specification of the Cambridge IGCSE TM in First Language Spanish, which will be published in March 2020. It has been a real honour and a marvellous experience!
What would you change about the assessment and qualifications system if you could?
I think assessment and qualifications have traditionally been focused more on the academic side. It's only recently been the case that we can start noticing a shift towards a more practical aspect. In this day and age, I think qualifications should reflect a more rounded approach to assessment, where not only are academic skills assessed but also the candidate's soft skills and ability to think outside the box. Education programmes should, therefore, provide practical and real-world approaches to learning in order to help students develop skills and competencies required for lifelong learning.
Why are you a member of the CIEA?
Although I have over 15 years' experience in language assessment, I believe CIEA will enhance the professionalism of my career as an assessor by providing the right development and support in this area. I think it is very important to be a member of a professional community, where the focus is on assessment. Twenty years on, the language service company I co-founded with my husband has added an education division which offers language tuition at all levels and for all ages. We are very keen on starting to develop our own assessment material for our children groups.