Butterfly K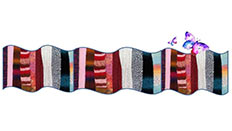 The Butterfly K project was launched in 2012 to support women's well-being through knitting.
We are currently focusing on knitting 'comfort scarves' for women living in refuge accommodation to support them in continuing to build a new life.
Knitting is a pursuit which all age groups can be successful in and enjoy.
We are particularly interested in the power of knitting as a form of living history to link women of different generations. This occurs through both the physical act of knitting together and through knitting's potential as a stimulus for story-telling and connectivity.
We are currently investigating the social connections and interactions which come about through 'storying', knitting and life.
Get involved in the Butterfly K project
Contact us to learn more about this project, or to get involved.