Mill Green Mill & Museum
Heritage clothing on display at Hertfordshire Museum.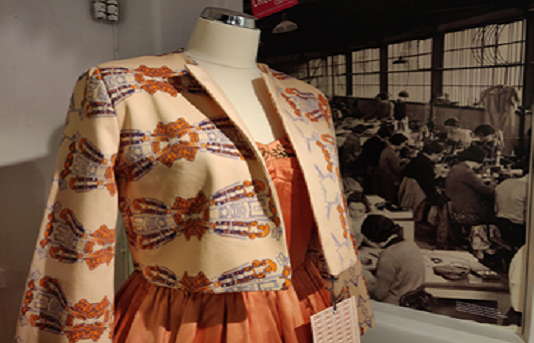 Cresta Couture Exhibition
Mill Green Mill & Museum is always worth a visit and this new exhibition for Spring makes it even more worthwhile. The Cresta Couture exhibition is presented in partnership with the University of Hertfordshire and it celebrates the innovative and stylish fabrics created by local Hertfordshire textile company Cresta Silks from the 1920s to the 1970s.
Original Cresta Couture items from the museum's collection will be displayed alongside contemporary pieces and designs created by Fashion and Fashion Business students at the University of Hertfordshire's School of Art and Design who have been inspired by the iconic designs.
Other exhibitions currently running at Mill Green Museum include:
Moving connections: The Scouts and displaced people
17 February - 17 March
An exhibition showcasing objects from the Scouts Heritage Collection and artwork from Year 5 at Kenilworth Primary School. The culmination of a project with EmpathyLab and Jane Ray looking at Scouts' support for refugees and displaced people as a springboard for learning about the topic and increasing empathy skills.
40 years: Bringing our Borough's History to Life
24 March - 28 April
This exhibition celebrates 40 years as the Welwyn Hatfield Museum Service and will showcase how we gave grown and developed over time.
The Museum is open Tuesday to Thursday 10 am - 5 pm, Sundays and Bank Holidays 2 pm - 5 pm.
It is closed Friday/Saturday/Monday.
Please see the Mill Green Museum website for further details.
Location
Mill Green Mill & Museum
Bush Hall Lane
Mill Green
Hatfield
AL9 5PD