Rights for Women 1900-1930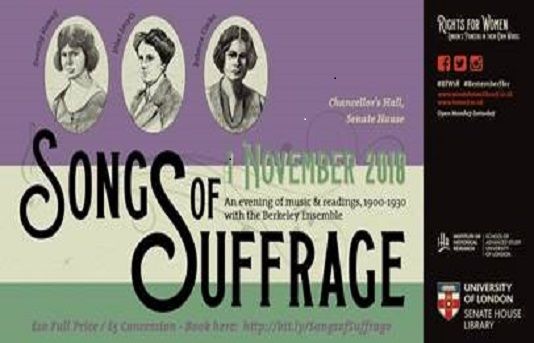 November Events at the University of London
Songs of Suffrage

1 November 2018, 6:30-8:30
Tickets £5 concession, £10 general admission. Includes pre-concert drink and exhibition entry.
Featuring members of the Berkeley Ensemble with Dr Kate Kennedy, broadcaster and historian as the narrator
The Institute of Historical Research and Senate House Library host a chamber concert featuring the work of three women composers active in the suffrage movement – together with readings from their diaries and letters, and from those of fellow suffrage campaigners.

The concert will include music by Ethel Smyth (1958-1944) and Rebecca Clarke (1886-1979), who were prominent suffragists and members of the Society of Women Musicians, and by Dorothy Howell (1898-1982) whose work was regularly premiered at the Proms from 1919, but is now rarely heard.

The concert will be accompanied by an exhibition of scores, diaries and letters written by these and other women composers from the period, drawn from the Senate House Library collection.
To book and for more information: https://www.history.ac.uk/events/event/16713
Also forthcoming: Suffrage and Citizenship in Ireland, 1912-1918

15 November 2018, 6:00 -7:30 pm with reception to follow Senia Paseta (Oxford)
It is no coincidence that Constance Markiewicz, the first woman elected in 1918, was an Irish republican who had campaigned on an explicitly feminist and socialist platform.

Feminism was a more vibrant force in Irish political life than is usually allowed and it engaged in important and direct ways with key political debates over the revolutionary period, helping to shape some vital nationalist ideas and strategies. When the vote finally came, Irish women were already well organised, politically mobilised and able to exercise considerable influence over the election campaign and its outcome.

Certainly, feminist activism took place around, within and often despite the sometimes crushing influence of nationalism in late nineteenth and early twentieth century Ireland. The Irish women's suffrage movement was at times overshadowed by the national question and subject to internal debates about tactics and allegiances as a result of competing political priorities.
To book and for more information: https://www.history.ac.uk/events/event/16649
Feminist Public Histories

22 November 6:00-7:30 pm, with reception to follow
Lucy Delap (Cambridge)
This lecture offers an opportunity to reflect on how, by whom and for whom history is produced. It examines the teaching of public history in higher education, acknowledging the recent powerful calls for new kinds of curricula focused on 'decolonisation'. The development of policy-oriented applied history is critically assessed, and despite opposition, the present day emerges as a period of unprecedented opportunity for very diverse forms of historical production that are informed by feminist principles and which extend the public profile of the history of feminism.

Lucy Delap is a Reader in Modern British and Gender history at the University of Cambridge, and Fellow of Murray Edwards College. She has published widely on the history of feminism, gender, labour and religion, including the prize-winning The Feminist Avant-Garde: Transatlantic Encounters of the Early Twentieth Century in 2007, and Knowing Their Place: Domestic Service in Twentieth Century Britain in 2011.
To book and for more information: https://www.history.ac.uk/events/event/16812
Location
Chancellors Hall
Senate House
Malet Street
London
WC1E 7HU