One Day Summer Conference in Watford
As a part of Small Charities Week, Michal Siewniak from Watford & Three Rivers Trust has organised a one day networking conference celebrating heritage, art and community in Watford.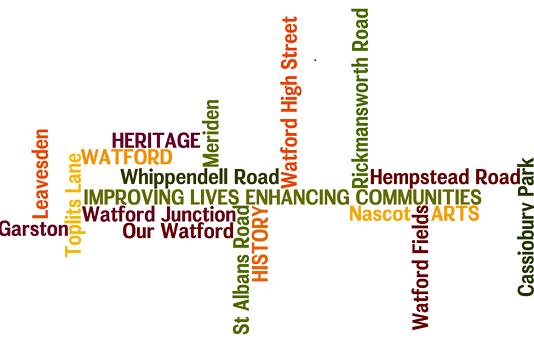 Improving Lives - Enhancing Communities, Watford's Story So Far
This conference will be an opportunity to showcase and highlight the work of many organisations in the Watford area, particularly in relation to heritage as well as demonstrate how art can impact community cohesion and more effective integration.
Conference Agenda
9:45 Tea, coffee and registration
10:00 Welcome and introductions – Michal Siewniak, Service Manager for Watford CVS
10:05 Opening remarks from Watford Mayor – Peter Taylor
10:10 'Watford stories'
Watford Museum and Watford Borough Council
DRUM
Watford Palace Theatre – "110 years of Watford Palace Theatre"
Sikh Temple
11:00 Q&A
11:15 Group discussion – how can we share our culture and heritage?
11:30 Break
11:45 Prof. Sarah Lloyd, University of Hertfordshire
"Making Histories, Sharing Histories"
12:00 Sharon Stanley - Senior Community Outreach & Engagement Officer, Lead for Adults with Learning Disabilities, Houses of Parliament
"People, Parliament and Women in Politics"
12:15 Q&A
12:30 Lunch & networking
13:00 Sally Page, Development Office, Heritage Lottery Fund, East of England
"Let's talk about funding"
13:15 Derrick Williams MBE – Volunteering & 25th Anniversary Project Manager, Watford FC's Community Sports & Education Trust
"The Trust at 25"
13:30 Vanessa Wright – Service Manager - Getting Together and Sarah Hill – Health and Wellbeing Project Manager
"Sharing is Caring"
13:45 Q&A
14:00 Feedback and what's next?
14:10 Conference conclusion.
14:10 – 15:10 'One to One' Funding Advice Sessions (10 minutes long).
This conference is supported by Watford & Three Rivers Trust and the University of Hertfordshire's Heritage Hub.
Location
Holywell Community Centre
Chaffinch Lane
Watford
Herts
WD18 9QD