Art in Practice: School of Creative Arts Alumni showcase
Gallery 2 – Illustration
---
Discover the Illustrators:
---
Joelle Avelino
Congo, 2020
Neema Namadamu, 2020
Untitled, 2020
Joelle Avelino is a Congolese and Angolan illustrator and animator. Her vibrant and colourful illustrations are inspired by phenomenal women, everyday life and her African heritage. Having grown up in the UK, Avelino aims to bring these two worlds together through her work.
Avelino graduated from the University of Hertfordshire in 2012 with BA (Hons) in Illustration with Marketing. After working in marketing for three years she took the leap to pursue a career as an illustrator. She has worked with many clients, including BBC, Malala Fund, Elle Magazine, The Guardian, and Google's Women Tech Makers. Her animation project with the Malala Fund was featured on Design Weekly's favourite International Women's Day Projects of 2020.
Website: joelleavelino.com
Instagram: @joelle_avelino
Twitter: @joelle_avelino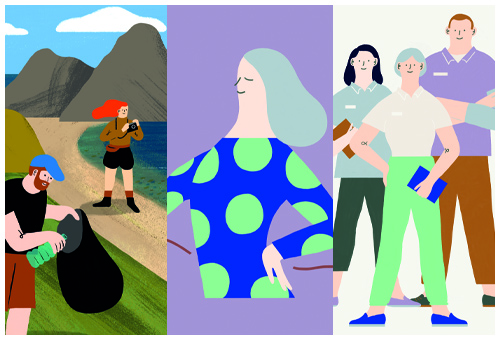 Evgenia Barinova
Lake Baikal, 2019
Pain Relief, 2019
Team work, 2019

Evgenia Barinova is an illustrator, art director and educator based in Moscow, Russia. Barinova's visual language is fluid, and she approaches each task individually, focusing on requirements, ideas and clarity of communication. Her preferred tools and techniques vary from pencil to print-making and digital graphics.
After graduating with BA (Hons) in Graphic Design and Illustration from the University of Hertfordshire in 2011, Barinova worked as an illustrator, designer and production assistant before moving back to Moscow. Barinova is now a lecturer in Illustration at the British Higher School of Art and Design but continues her freelance illustration practice. She runs an illustration blog on copyright and the business side of illustration (illustratorsunion.ru) and is launching an online magazine about illustration in Russia called slonvboa.ru — which means 'an elephant in a snake' from Antoine de Saint-Exupery's novel The Little Prince.
Website: evgbrn.com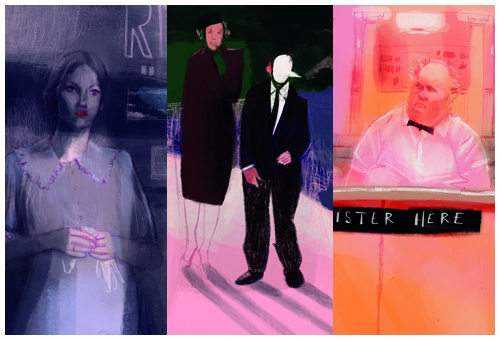 Cath Donaldson
Film Director Series: David Lynch 2 & 3, 2020
Film Director Series: Wes Anderson, 2020

Cath Donaldson is an award-winning illustrator and educator living in Abu Dhabi. She works across many mediums including editorial, publishing, advertising, exhibition design and specialist painting. Donaldon's current research interests are in documentary and reportage illustration. This is reflected in her recent book, 'Neighbourhood', which documents eight months spent on-site, drawing some of the changing communities of Abu Dhabi.
Donaldson graduated with an MA in Illustration from the University of Hertfordshire in 2018, and has worked as a freelance illustrator for Time Out magazine, The Independent, The Sultan of Brunei and The Natural History Museum. Donaldson is also a lecturer in Graphic Design and Illustration at both college and university level.
Website: cathdonaldson.co.uk
Instagram: @catxballou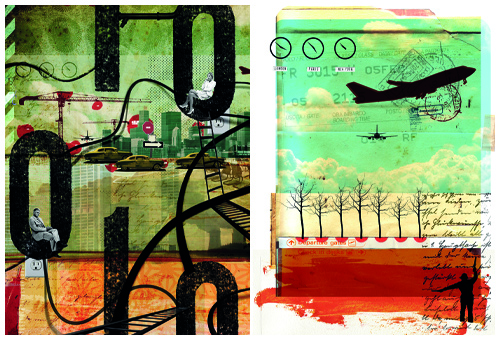 Sarah Hanson
Binary World City, 2012
Travel Global Warming, 2008
Sarah Hanson is a British artist producing collage illustrations for both private and commercial commissions. She spent the early years of her childhood living in Abu Dhabi, UAE, sparking a life-long admiration for travel and culture. Her work is a reflection of her experience and is often imbued with a strong sense of place or journey. Hanson uses traditional handmade and digital techniques, combining textural elements with photography, painting and printmaking. She collects random ephemera, old paper, and discarded objects, which filter into her images creating subtle texture and interest.
Hanson graduated with BA (Hons) in Graphic Design and Illustration from the University of Hertfordshire in 2006. She has worked for a wide range of clients within the Advertising, Editorial, Publishing, and Design sectors and occasionally guest lectures on the Illustration course at the University of Hertfordshire.
Website: debutart.com/artist/sarah-hanson
Instagram: @Hanson_Illo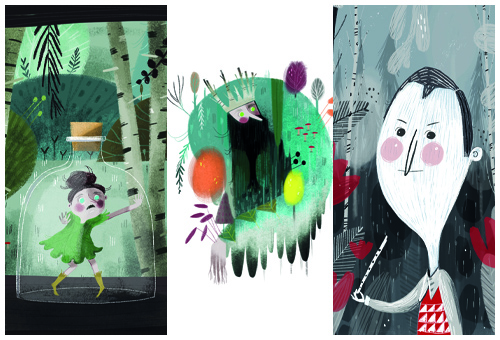 Maxine Lee-Mackie
Fairy in a Bottle, 2018
The Erl King, 2018
The Magic Flute, 2018

Maxine Lee-Mackie is a freelance illustrator who works with ink, dry media and digital processes to bring life to her drawings. Lee-Mackie is inspired by children's books and has illustrated several picture books and graphic novels. She doesn't limit herself to any one style or medium instead allowing herself full creativity when she approaches a new project.
Before starting freelance work, Lee-Mackie worked as a lecturer in Art and Design. She graduated with an MA in Illustration from the University of Hertfordshire in 2019, and has worked on many exciting projects, including with Disney Publishing, Usborne, and Chicken House. She is also admin on a Facebook group called 'Illustrators on Instagram', an anti-marketing group that aims to get past the 'like for like' culture, and instead get to know each other and share information and resources.
Website: maxinelee.com
Instagram: @maxineleemackie
Twitter: @maxillustration
Facebook: Maxine Lee-Mackie Illustration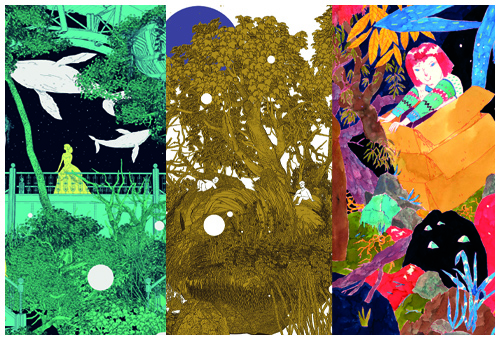 Sam Richwood
Galaxy Garden No. 11, 2017
Galaxy Garden No. 25, 2019
Secret Spaces 03, 2014
Sam Richwood takes inspiration for his work from little things. The tiniest details can spark new ideas and have helped him build a library of random inspirations, motifs and tiny experiences with which he uses to create landscapes around his characters. Richwood's illustrations suggest a place beyond the canvas, inviting viewers to experience a world through the eyes of his characters.
Richwood graduated with BA (Hons) in Graphic Design and Illustration from the University of Hertfordshire in 2012. He has created illustrations for the Folio Society for their publication of Madeleine L'Engle's A Wrinkle in Time, and sells prints of his own work alongside working as a full-time designer for Future Publishing, where he is responsible for several publications.
Website: samrichwood.com
Instagram: @samrichwood
Twitter: @SamRichwood
Facebook: samrichwoodart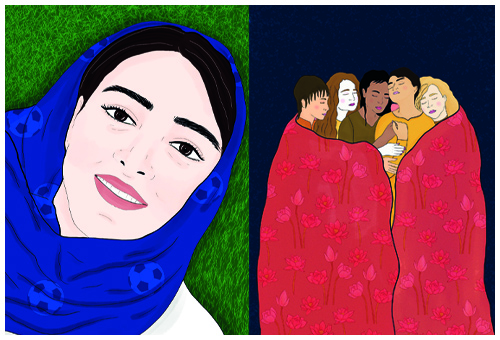 Roshi Rouzbehani
Blue Girl, 2019
Sisterhood as Blanket, 2019

Roshi Rouzbehani is an Iranian illustrator based in London. She brings ideas and concepts to life through lines and colours, and enjoys creating conceptual illustrations that are feminine, considerate, and emotional. Collaborating with BBC 100 Women, Period Future, Iranian Women Studies Foundation, Harasswatch and Popshot Magazine among others, Rouzbehani is passionate about gender equality and loves to put topics such as sisterhood, female empowerment and mental health for women at the centre of her work.
Rouzbehani graduated from the University of Hertfordshire with BA (Hons) in Illustration in 2019. She is currently working on her forthcoming book "50 Inspiring Iranian Women", which is an illustrated biography book about 50 extraordinary women from Iran. When she is not drawing, she designs and makes silver jewellery.
Website: roshirouzbehani.com
Instagram: @Roshi_Rouzbehani
Twitter: @RoshiRouzbehani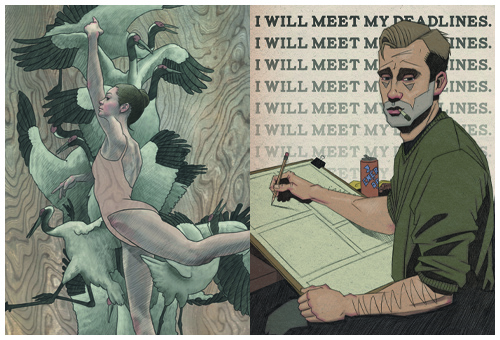 Jon Schwochert
Elegance and Movement, 2015
Self Portrait, 2018

Jon Schwochert is an artist and illustrator working in both traditional and digital media with a passion for storytelling. His work has been published by Nintendo Co., The Pokémon Company, Artist and Illustrator Magazine, Manifesto Press, Self Made Hero, Rising Sun Comics and many other smaller clients.
Schwochert studied at Otis College of Art and Design in Los Angeles, before moving to London. He left university to train in traditional techniques and media at London Fine Art Studios, and completed his MA in Illustration at the University of Hertfordshire in 2015. Schwochert is currently based in South East England taking freelance commissions. He teaches Adobe software at University for the Creative Arts and conducts youth outreach for University of Hertfordshire and the Kent and Medway Collaborative Outreach Programme.
Website: jonschwochert.com
Instagram: @jonschwo
Twitter: @jonschwo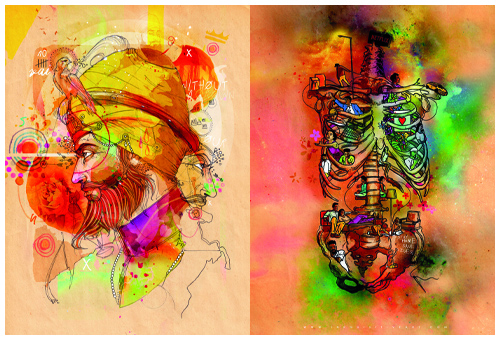 Amandeep Singh
King Without A Crown, 2018
Stay Home NHS, 2020
Amandeep Singh – also known as Inkquisitive – is a London based illustrator and graphic artist. His intricate ink creations are inspired by his Sikh culture and the world around him. Singh's work touches on subjects such as religion, pop culture, and politics to name a few. He takes pride in telling stories through his artwork, and allowing the viewer to interpret his paintings in their own ways.
Singh graduated with an MA in Illustration from the University of Hertfordshire in 2009, and has gone on to work with many high-profile clients and companies. He has worked on many private commissions and is currently working on a creative project with Apple.
Website: inkquisitiveart.com
Instagram: @inkquisitive
Twitter: @Inkquisitive
Facebook: @inkquisitiveillustration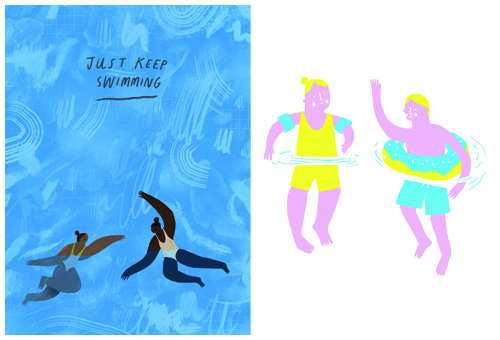 Charlotte Tisdale
Just Keep Swimming, 2020
Take the Plunge, Floating People, 2017

Charlotte Tisdale is a freelance illustrator based in Shrewsbury, Shropshire. Tisdale's illustration practice regularly includes handmade and drawn elements added to digital work to create texture and character. She uses pastel tones to create soft, appealing illustrations – often bringing warmth and a sense of calm to more sensitive subjects.
Since graduating from the University of Hertfordshire in 2017 with BA (Hons) in Illustration, Tisdale has worked on editorial, logo and narrative commissions as well as continuing to build her portfolio through designing cards and prints to sell online. Tisdale's work 'City of the Apes' is held in the University of Hertfordshire's permanent Art Collection.
Website: charlottetisdale.co.uk
Instagram: @charlotte.tisdale
Twitter: @char_tisdale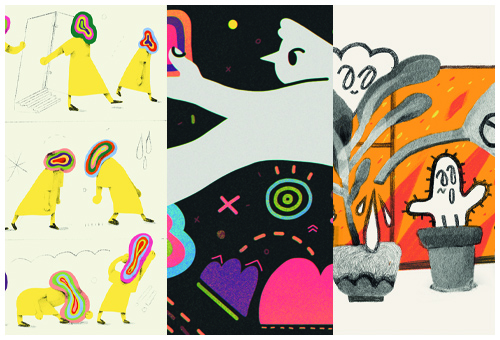 Katya Vakulenko
Headache, 2020
Taxi, 2019
We're Fine, Probably, 2020
Katya Vakulenko is a Moscow-based illustrator working independently on comics and exploring personal themes in her work. Her art journey has been a path of self-discovery, requiring exercises in empathy and careful observation. S
Vakulenko graduated from the University of Hertfordshire with BA (Hons) in Graphic Design and Illustration in 2018, and now works as a freelance artist with clients including Yandex, Beeline, Resume.io, HelpScout, Fiverr and many Russian online magazines.
Website: katyavakulenko.com
Instagram: @Katyavakulenko
Twitter: @Katyavakulenko_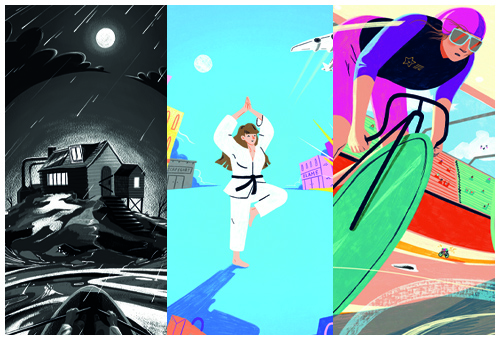 Harry Woodgate
Cabin, 2020
Sunday Times Sustainability feature, 2019
Velodrome, 2020

Harry Woodgate is a freelance illustrator based in St Albans whose illustration practice combines the rich textures of collages and print processes with digital imagery – resulting in innovative and eye-catching pieces of work. Woodgate uses bold colour and exaggerated perspectives to explore topics such as LGBT and queer identity, environmental and political activism, as well as the importance of creativity in our communities.
Woodgate graduated from the University of Hertfordshire in 2019 with BA (Hons) in Illustration.
Since graduating, Woodgate has worked with a number of high-profile clients across the editorial, publishing and advertising sectors, including The Sunday Times, Andersen Press, V&A and National Book Tokens.
Website: harrywoodgate.com
Instagram: @harrywoodgateart
Twitter: @harryewoodgate
Facebook: HarryWoodgateArt
Create it Share it: Create Characters