Rickmansworth Historical Society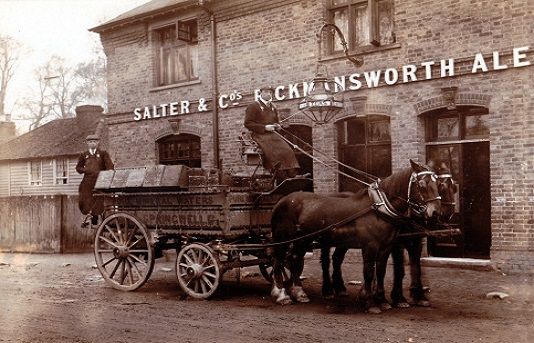 19 November 2019
Rickmansworth Historical Society have a great new website which includes a wide-ranging programme of talks for winter and spring 2020.
About The Society
The Rickmansworth Historical Society was founded in 1954 on the initiative of Godfrey Cornwall, its first Chairman.
Their interests embrace the history of the "old parish area" of Rickmansworth which includes Chorleywood, West Hyde, Mill End, Croxley Green, Loudwater, Batchworth and Eastbury as well as the town of Rickmansworth.
They publish the Rickmansworth Historical Review three times a year, and welcome articles on topics of both local and wider interest.
They meet at 8pm on the second Thursday of each month from September to June inclusive in the Cloisters Hall, The Cloisters, WD3 1HL, opposite St Joan of Arc School in Rickmansworth High Street, and they have a number of events during the year.
The society welcomes visitors to our talks and meetings – the fee to visitors is £3, payable at the door, with no need to book!
The Committee meets about four times a year to conduct business and plan the programme.
Check out Rickmansworth Historical Society's new website.
It can be reached at https://rickmansworthhistory.org.uk/
Forthcoming papers
12 December 2019 Cassiobury, the ancient seat of the Earls of Essex
by Paul Rabbitts
9 January 2020 West House and the Heath Robinson Museum
by Cynthia Wells
13 February 2020 The Antikythera mechanism: an ancient Greek astronomical calculating device
by Aris Dacanalis
12 March 2020 Chenies Manor and the Russell Family
by Alison Wall
9 April 2020 Beacons of the Past: investigating a prehistoric Chilterns landscape
by Dr Wendy Morrison
14 May 2020 The Rickmansworth Week Lecture: Lord Ebury's Railway
by Chris Hillier
11 June 2020 66th AGM then The Slave Owners of West Hertfordshire
by Brian Thomson
MEMBERSHIP
The annual subscription is £10 for individual membership, £15 for family membership and corporate membership. Apply for membership by contacting the Membership Secretary, using the 'Contact Us' page.
Payment is due on 1st September to the Membership Secretary.