Abbots Langley Local History Society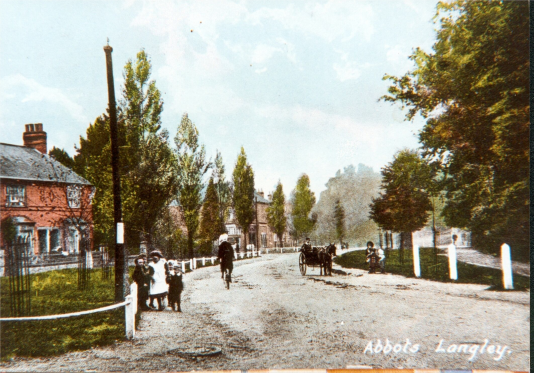 30 July 2019
From the New Poor Law to Bees and Roman Verulamium the Winter lecture series at ALLHS has something for all those interested in history.
25th Anniversary
The Abbots Langley Local History Society was founded in 1994. Its objectives are to encourage interest in the recent and distant past history of the area, particularly the landscape, buildings and, of course, the people.
The Society numbers some 190 enthusiastic individual members. The main activities are a series of illustrated winter lectures, on topics of historical interest held usually on the last Monday of each month at 8pm in the very convivial surroundings of the Manor House Sports and Social Centre. These meetings have a pleasant, informal atmosphere, and members are invited to contribute by bringing interesting artefacts and making short presentations on items of interest.
In addition, the Society holds exhibitions, arranges guided summer walks, and organises visits to places of interest.
Forthcoming events include:
Sunday 11th August 2019 2.00pm
25th Anniversary Parish History Walk led by Maureen Finerty
Abbots Langley High Street & Around
Meet at the far end of the Causeway car park, off the High Street, opposite the Methodist Church.
Ending at Kitters Green. Refreshments at the Royal Oak.
Details: Maureen Finerty
Saturday 28th September 2019 10.30am
Guided Lecture of Croxley Great Barn and Visit to Three Rivers Museum
Members and their guests only. Booking essential.
No charge but Donation Bucket at the Barn.
Meet at St Joan of Arc School car park, Rickmansworth.
Details and booking: Joy Mann
Monday 30th September 2019
Murders in Hertfordshire by Nik Pringle
Monday 28th October 2019
Fake or Fortune – What Became of the Henderson Legacy?
by Trevor Baker
Monday 25th November 2019
Handley Page and Radlett Aerodrome: 110 years by Chris Scivyer
Monday 9th December 2019
The Festive Season – A Look at the Origins of some of our Christmas Customs and Carols by Mike Ruff
Monday 27th January 2020
Live Forever! The Mystery & Magic of Egyptian Hieroglyphs
by Nick da Costa
Monday 24th February 2020
Adopting the New Poor Law in Hertfordshire and the Building of the Watford Workhouse by Karen Rothery
Monday 30th March 2020
The Beginning and End of Roman Verulamium and its Hinterland by Simon West
Monday 27th April 2020
Clive Clark Lecture
The History of the Parish Church of St Lawrence the Martyr, Abbots Langley by Jan Taylor
Monday 18th May 2020 7.30pm
Annual General Meeting followed by
History of Beekeeping by Kate Macnish
The annual subscription for 2019-2020 is £8.00 for individuals and £12.00 for family membership.
New members are always welcome.
If you are interested, visit the ALLHS Website or contact the membership secretary