St Albans Roman Festival 2019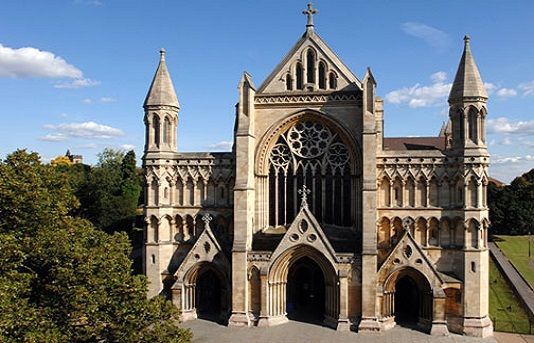 8 January 2019
The Annual St Albans Summer Festival celebrating Britain's first saint.
News from St Albans Cathedral
St Albans Cathedral is currently developing a 10-day Roman themed festival celebrating the city's namesake and the world in which he lived. Funded by the Heritage Lottery Fund as part of Our Alban, Britain's First Saint project, the Festival will run from Friday 21 – Sunday 30 June 2019 and will mark the opening of the Cathedral's new Welcome Centre, exhibition spaces and activity programme.
Working with St Albans City & District Council, we hope to make the Festival a truly city-wide event as this is a great opportunity to showcase all the amazing things St Albans has to offer. In order to create a successful programme full of fun events for people of all ages and interests, we need your help!
Why the Roman theme?
Saint Alban's story and the city built in his honour takes us back to the beginning of the Christian faith in Britain. Alban is believed to have been a Romano-British citizen who lived in the Roman city of Verulamium around the year 300. As the Cathedral opens its new Welcome Centre and begins the next phase of its journey, we want to make sure we celebrate our city's past and where it all began.
When is the Festival taking place?
From Friday 21 June – Sunday 30 June 2019.
The Festival will add to the hugely successful events that already take place over Alban Weekend. The Alban Pilgrimage, taking place on Saturday 22 June, attracts thousands of visitors each year, and the Council's Alban Street Festival which will be held on Sunday 23 June, welcomed 15,000 people last year.
How can I get involved?
There are two ways you can get involved:
Organise and host your own Roman or Alban themed event anytime between Friday 21 – Sunday 30 June 2019. This can be an event/activity that you do already with an added Roman twist, or can be something completely new!
Take part in the Cathedral's carnival on Saturday 22 June on the Abbey Orchard. Following the Alban Pilgrimage, it will be a day filled with Roman re-enactors, games, crafts, food and music! We're looking for groups that might want to deliver some of these activities.
What kind of events are you looking for?
St Albans has such a rich Roman history and we really want to showcase that, so anything inspired by the Romans or the Alban story will do. This is an opportunity to be as creative as you would like!
Need help getting started? Feel free to get in touch and we would be more than happy to help brainstorm and provide a little inspiration.
Does it cost anything to take part?
No! We will even help with the promotion of your event for free. Let us know all the details of your event by the deadline and we will help to promote it through all of St Albans Cathedral's channels, including a large social media campaign, website and print material. Your event will also be included in the Festival's official programme free of charge which will be used throughout the entirety of the Festival.
We will ask that you help to promote your event and the Festival through your own channels as well. We will provide you with a publicity toolkit with logos, copy etc. to make this as easy as possible for you.
What do I need to do now?
Start brainstorming your ideas and let us know that you want to be involved by emailing St Albans Cathedral as soon as possible. While you don't need to have a firm idea of what you want to do yet, it would be helpful for us to know who wants to take part.
We will be in touch in January with a submission form asking for the specifics of your event. The deadline to submit your form is Friday 15 March. We cannot guarantee any events submitted after this date will be included in the programme.