New MA In History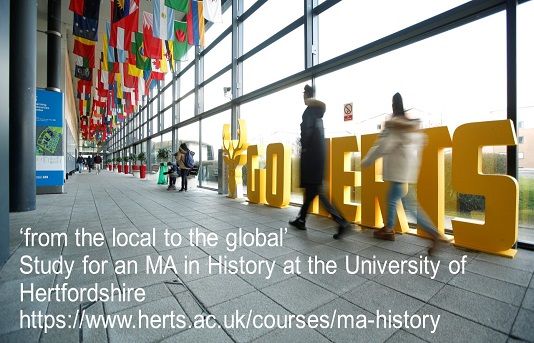 16 April 2019
Find out more about the University of Hertfordshire's new MA in History.
Open Drop-in Sessions available in May
Have you thought about taking your research further with an MA in History?
The new MA History programme at the University of Hertfordshire examines everyday lives from the local to the global.
Study full-time or part-time, with evening seminars and a range of modules. There is also the opportunity to write a dissertation on a topic of your choice.
*New Drop in Sessions
Come along and hear about this new MA or get advice on completing an application
Wednesday 8 May 2 pm - 3 pm.
Wednesday 15 May 11 am - 12.30 pm.
3rd floor R block De Havilland Campus, University of Hertfordshire.
MA in History
Modules to include:
Money-makers, Murderers, Medics and Mothers uncovers the multifaceted nature of women's lives in the seventeenth and eighteenth centuries.
In Local and Global you will examine the impact of the development of consumer societies on communities and cultures from the 18th to the 21st centuries.
In the second semester, you will explore the effects of major changes in global history on individual lives and communities in Britain and other parts of the world in History from the Street.
Alongside these subject modules, you will take two research methods modules:
Semester A will support you as you transition from undergraduate to postgraduate studies. Semester B will train you to write for different audiences and help you prepare for your dissertation.
The programme is offered full time (1 year) and part-time (2 years) and is taught through seminars in the evenings.
Assessment is through coursework, culminating in a 15,000-word dissertation on a topic of your choice, supervised by an expert in the field.
If you would like to find out more contact Dr Katrina Navickas k.navickas@herts.ac.uk
Follow the link to find out more and to apply: MA in History programme
Deadline for applications for September enrolment is July 2019.