The Idle Women of the Wartime Waterways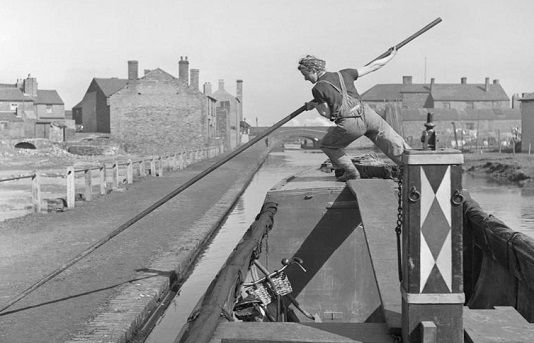 29 May 2018
The Idle women Tour promises an evening of entertainment and a closer look at Wartime history.
'Idle Women' Summer Tour 2018
The Alarum Theatre will be touring again along canals from Liverpool to Leeds telling the forgotten story of women who, as a part of the war effort, hauled goods along Britain's canals.
During the Second World War there was plenty of work for the working boats on the canals, but not enough good crews. So the Women's Training Scheme was born – young women who took on 72 foot boats and 50 tons of cargo.
The Alarum Theatre Company have recreated the regular journey made by the trainees, who shortly after the war became known as The Idle Women, a nickname that has stuck ever since. The team include Kate Saffin, Heather Wastie and Zoe Hunn (Freelance tour and production manager).
Boater, writer, storyteller and actor, Kate Saffin has lived on a narrow boat and told stories of the waterways as solo plays since 1999. She trained as a writer for stage and broadcast media at the Royal Central School of Speech and Drama (MFA).
She adapted the waterway classic Ramlin Rose; the Boatwoman's story by the late Sheila Stewart and has performed at canal festivals, in pub gardens and at the Edinburgh Festival Fringe. Other canal based plays have retold the apparently true story of a brothel on a boat (The Boat of Ill Repute) and a late coming of age for a pensioner who finds herself on holiday on a boat (Finding Libby).
Heather Wastie's first experience of canals was as a child when her family was involved in campaigns to save them. Her father, Alan T. Smith, owned an ex-working boat named Laurel, and was awarded an MBE for his services to inland waterways.
Heather was Worcestershire Poet Laureate 2015/16 and is well known for her interpretations of oral history. In 2013 she was Writer in Residence at the Museum of Carpet, turning people's memories into poems, monologues and songs which she now performs. This work was published in November 2015 by Black Pear Press under the title Weaving Yarns. In 2017 she was commissioned by Worcestershire Building Preservation Trust to compose a children's song cycle, Loom in the Loft, to celebrate the restoration of the Weavers' Cottages in Kidderminster.
In 2017 she was commissioned to write and perform poems for the popular Nationwide Building Society ad campaign, Voices Nationwide. Wastie has also worked as poet and actor for National Trust property Croome Court in Worcestershire.
Find all the latest tour dates and news on the Alarum Theatre website.
Press Reviews 2017
'Both women are exceptional storytellers, their performances brimming over with personality and linguistic virtuosity.'
-London City Nights, 5/4/17
'Idle Women of the Wartime Waterways makes a delightful evening and if you find this show is coming to a canal near you, then make an effort to catch it!'
-London Grip, 5/4/17
'…eye opening, very funny and touching in equal quantities…what better way can there be to learn and think about something new than in the warm, hard-working hands of Kate Saffin and Heather Wastie?'
-Frost Magazine, 5/4/17
'A powerful reminder of the crucial role women played in keeping the country running during the war.'
-Theatre Things, 26/4/17