National Lottery support for Abbots Langley's Great War Project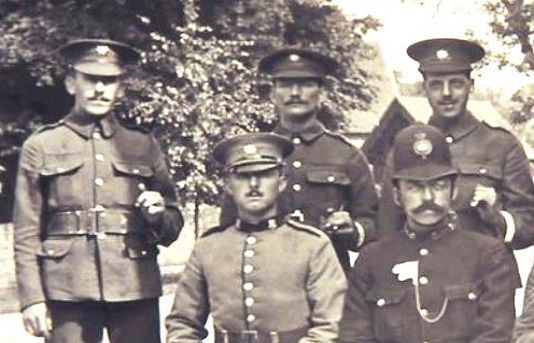 21 March 2018
This is a community-based project formed to research, record and remember the men and women from Abbots Langley, Bedmond, Hunton Bridge, Langleybury and Leavesden who served during the Great War 1914-18.
'Back to the Front'
Abbots Langley's Great War Commemoration Project has received £10,000 from the Heritage Lottery Fund for its project - 'Abbots Langley's Great War'.
The project will research, record and remember those from the villages of Abbots Langley, Bedmond, Langleybury, Hunton Bridge and Leavesden in Hertfordshire that served during the First World War. This will be made possible through HLF's 'First World War Then and Now Programme' and is funded by the National Lottery.
The project will focus on the part played by the men and women of these villages throughout the Great War, and through a series of events and activities will share the outcome of its research with the local communities to create a better understanding of the heritage of the First World War.
Workshops will be held at local schools, where children will learn about the part played by men and women from the villages, and will work with artists and historians to create a modern War Memorial to be displayed at Abbots Langley. Emblems will be displayed at the houses where the Great War soldiers lived, and the current occupants will be presented with the stories of the exploits of these men and women. Great War Walks around Abbots Langley and Bedmond in conjunction with the 'Hertfordshire Health Walks' and 'Walks and More' programmes will be organised at the late May and August Bank Holiday weekends.
Exhibitions will be held in the villages in October and November to display the results of the project's research. In November a newly commissioned production using music and local stories from the time of the War will be presented at the Henderson Hub Arts Centre at Abbots Langley. To help the research work, and to plan and organise the programme of events the Project seeks to encourage a team of volunteers, and it is hoped that this group will learn some new skills working with this heritage project.
This year marks the 100th anniversary of the end of the First World War, and it is fitting that the 'Abbots Langley Great War Project' will enable local people to come together to preserve the memories and heritage of the part played in this global conflict by the people of these Hertfordshire villages. The research undertaken by the project will live on long after 2018.
The 'Back to the Front' project has launched a new website where more information about the programme of events and details of how to support the project as a volunteer can be found. As the project progresses, information gathered will be digitally recorded and an online archive will be created where everyone can access and contribute information.
Commenting on the award, Roger Yapp the 'Back to the Front' Project Leader said: "We are thrilled to have received the support of the National Lottery and will be working hard throughout 2018 to research, record and remember the heritage of the First World War in Abbots Langley and the surrounding villages."