St Albans South Signal Box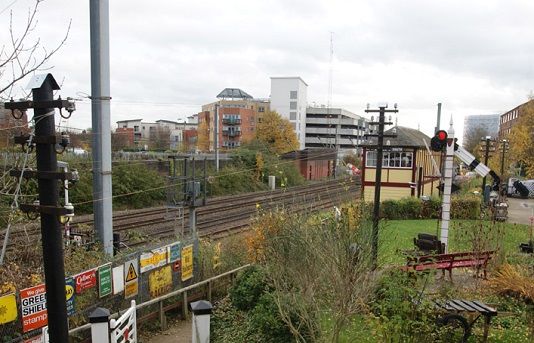 24 July 2018
Fully restored signal box with operating floor, and demonstrations of signalling practice.
Midland Railway Heritage at St Albans
Standing at the end of the St Albans City station Ridgmont Road car park, adjacent to Platform 4 is this remarkable signal box, built in 1892 it has been completely restored by the St Albans Signal Box Building Preservation Trust and it is well worth a visit.
The website details the fascinating history of the signal box, the largest preserved Midland box in the country, it is in its original position adjacent to the still busy main line it used to control and open to the public throughout the year. Last used by British Railways in 1980, this Grade 2 listed building was saved from dereliction by a charitable Trust set up in 2003. Leased to the Trust in 2006, major repairs to the structure have taken place and the box restored to it's 1950s external appearance.

Internally the 44 lever 'Tumbler' Interlocked frame has been restored and demonstrations of the way the box worked are given using instruments of the type once fitted in the box. There is a museum of signalling and other railway items downstairs, video of the box when in use shortly before closure, and a presentation of pictures showing the restoration works. During 2018 we will be commemorating the 150th anniversary of the opening of the 'London Extension' by the Midland Railway.
Outside, the ground around the box has been landscaped into an attractive garden where we have ground frames with which visitors can work semaphore signals. Demonstrations of 1970s and modern 'LED' colour light signals show present signalling methods. There is a garden railway and a 'pole route' - a sample of the posts and telegraph wires that were once common alongside railway lines.
The Trust received the Invensys Rail Signalling award in the 2010 National Railway Heritage Awards and was given the St Alban's Civic Society top award for 2008 for the restoration works. In 2017 we received the Mayor of St Albans personal Recognition Award.
Open Days - 14:00 to 17:00 April to October 2nd and 4th Sunday of the month. November to March 2nd Sunday of the month. Party visits at other times can be arranged.
FREE entry - donations always welcomed! All visitors receive a traditional Edmundson card ticket as a souvenir.
Further information regarding the signal box can be found here.