Bricks of Victorian London Book Launch
A launch event for the latest from our Studies in Regional and Local History series.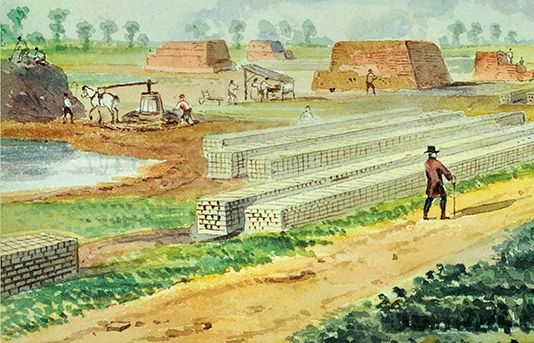 The latest title from our Studies in Regional and Local History series is Peter Hounsell's Bricks of Victorian London. We will be celebrating the launch of the excellently reserached new titled at a special event at London Metropolitan Archives. The live event is now sold out, but if you would like to attend "virtually" via live stream, please click "book now" and register for that.
More about the book
Many of London's Victorian buildings are built of coarse-textured yellow bricks. These are 'London stocks', produced in very large quantities all through the nineteenth century and notable for their ability to withstand the airborne pollutants of the Victorian city. Whether visible or, as is sometimes the case, hidden behind stonework or underground, they form a major part of the fabric of the capital. Until now, little has been written about how and where they were made and the people who made them.
Peter Hounsell has written a detailed history of the industry which supplied these bricks to the London market, offering a fresh perspective on the social and economic history of the city. In it he reveals the workings of a complex network of finance and labour. From landowners who saw an opportunity to profit from the clay on their land, to entrepreneurs who sought to build a business as brick manufacturers, to those who actually made the bricks, the book considers the process in detail, placing it in the context of the supply-and-demand factors that affected the numbers of bricks produced and the costs involved in equipping and running a brickworks.
Transport from the brickfields to the market was crucial and Dr Hounsell conducts a full survey of the different routes by which bricks were delivered to building sites - by road, by Thames barge or canal boat, and in the second half of the century by the new railways.
The companies that made the bricks employed many thousands of men, women and children and their working lives, homes and culture are looked at here, as well as the journey towards better working conditions and wages.
The decline of the handmade yellow stock was eventually brought about by the arrival of the machine-made Fletton brick that competed directly with it on price. Brickmaking in the vicinity of London finally disappeared after the Second World War. Although its demise has left little evidence in the landscape, this industry influenced the development of many parts of London and the home counties, and this book provides a valuable record of it in its heyday.
Dr Peter Hounsell is the author of London's Rubbish: Two centuries of dust, dirt and disease in the metropolis as well as several books about Ealing. He worked in public library services for nearly forty years and is a Fellow of the Historical Association.
Location
40 Northampton Road, London EC1R 0HB