Krijn de Koning – Green/blue, work for the Fredrick Gibberd Garden, Harlow 2020
August - October 2020
Working in partnership with UH Arts, artist Krijn de Koning has created a site-specific installation at The Gibberd Garden in Harlow. De Koning's art practice takes different structures and environments – such as Compton Verney, Edinburgh College of Art and Folkstone Triennial – to create interventions in a space, which both highlight and intervene with our experience, perception and assumptions of these places. Based in Amsterdam, de Koning has been able to explore sites in Hertfordshire and Essex with fresh perspectives as a visitor, before selecting The Gibberd Garden as the location for his installation.
Visit The Gibberd Garden to see the installation and more.
For free online art activities for all, inspired by Krijn's artwork, please see Sarah Evan's page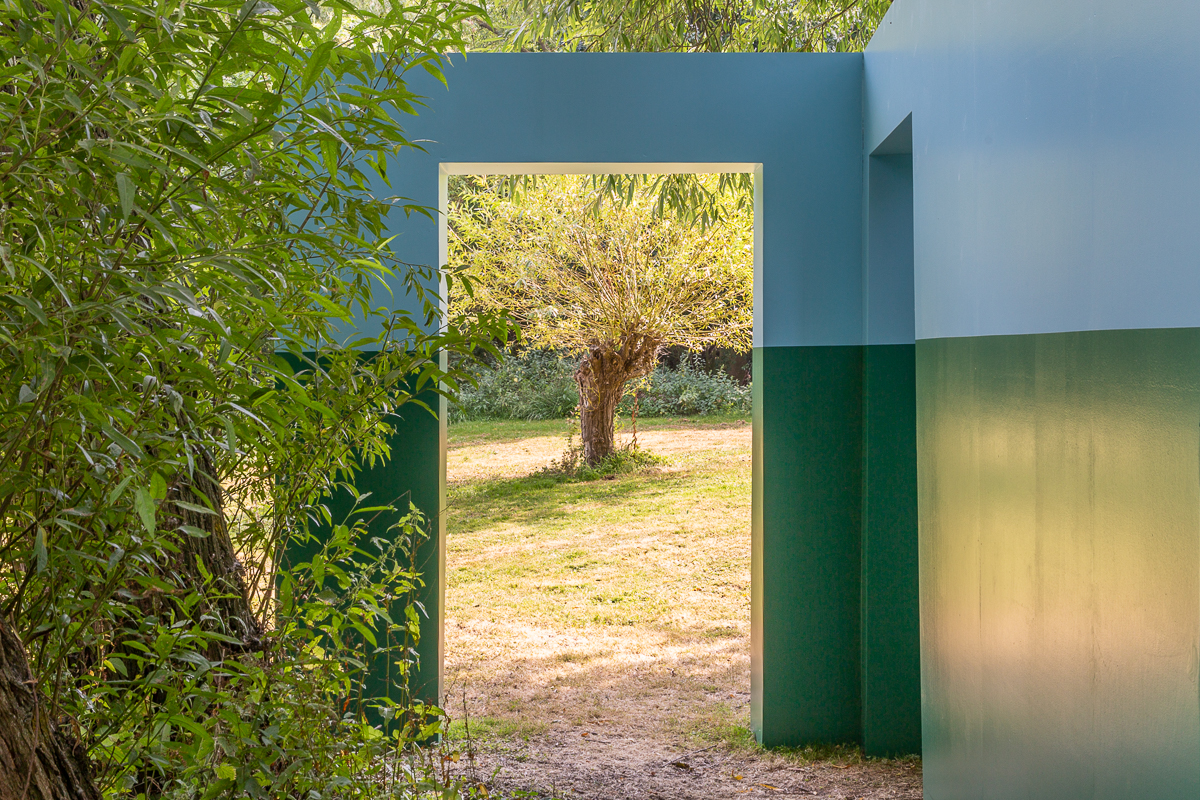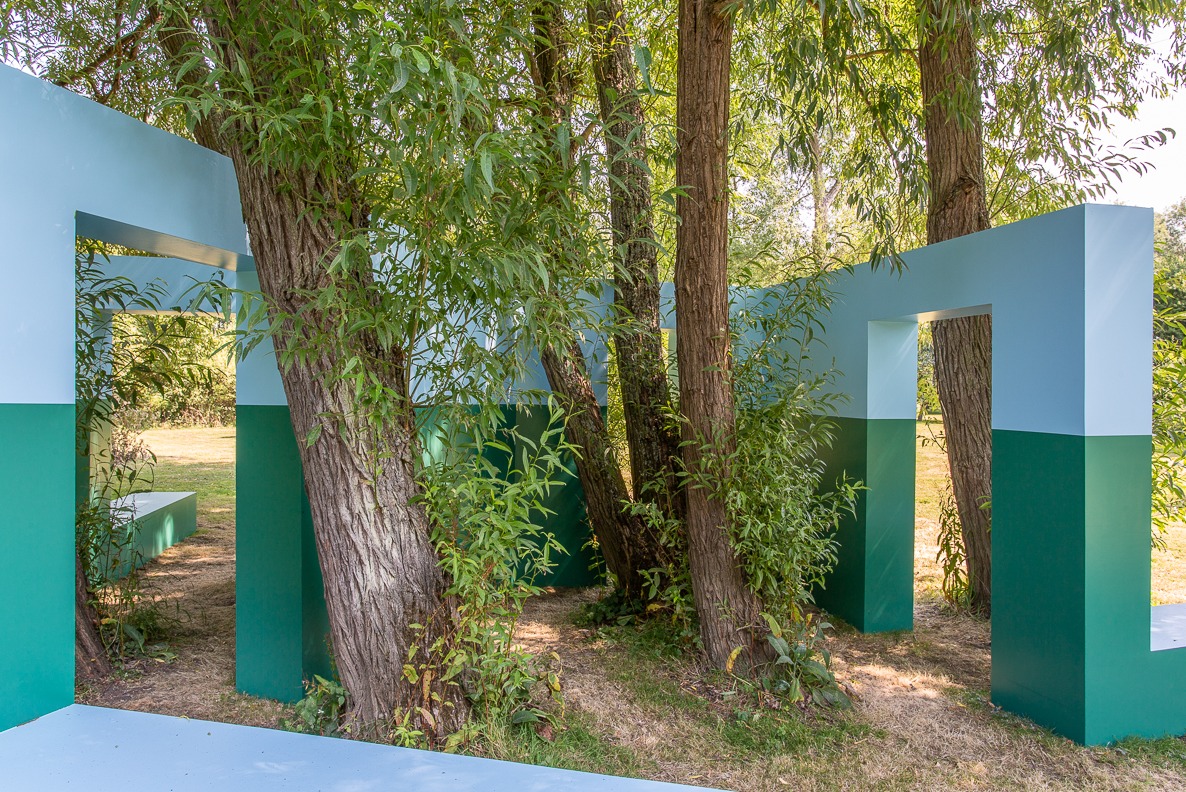 The artist's interest in architecture is well placed at The Gibberd Garden; the house and garden of architect Sir Fredrick Gibberd. Born in 1908 and knighted in 1967, Gibberd designed Harlow and other iconic places such as Liverpool Metropolitan Cathedral and London Central Mosque. The Garden has been arranged into rooms by Gibberd and peppered by his eccentric collection of artworks and paraphernalia leftover from his own builds.
Characterising the garden as 'rooms' inspired de Koning to design a structure which is divided by walls – acting to partition the space. He has created compartments which feature 'openings' that allow people to look and step through as they navigate the space. De Koning often employs geometric shapes in his work, and here they relate to the passages in the Chinese and Japanese gardens. He states:
"The whole installation creates a spatial game of see-through, obstruction and framing that investigates the interaction between the specific iconography of an object (in this case the trees) and the experience of a place, which is of a much wider character. The trees are as central and important as the work that surrounds them, they belong to each other. The situation is in balance, but together they put a lot of particular focus and attention to the place."
Krijn de Koning guides the visitor to see and experience the garden through a new architectural structure, as the garden, in turn, forms an integral part of the work. The installation will be at The Gibberd Garden during Summer/Autumn 2020, where possible in line with government guidance and Covid-19 restrictions.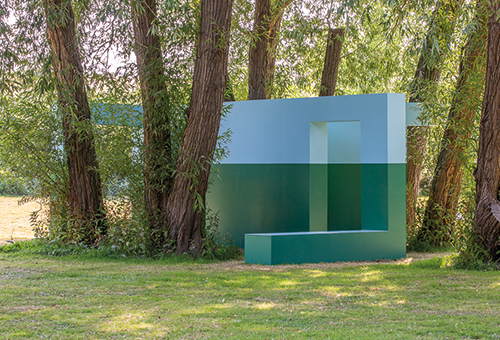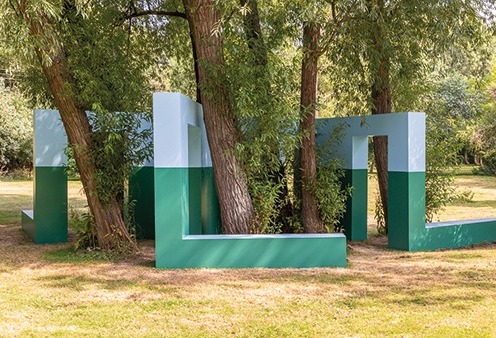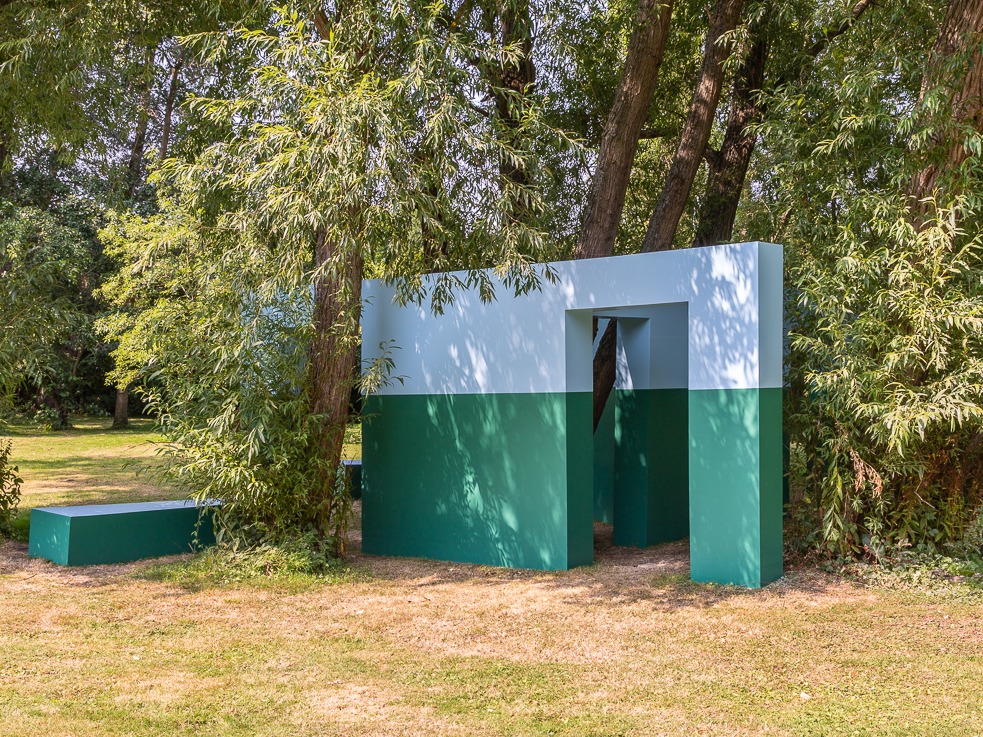 Alongside Krijn's project, there will be opportunities to get involved with digital activities. Please keep an eye on the UH Arts what's on and social media, you can also sign up to our mailing list.
We would be grateful if you could complete the New Geographies survey. This survey will take approximately 2-3 minutes and helps the New Geographies consortium of organisations to gather feedback for the funder and to evaluate our projects. You do not need to give your name or email.
With thanks to The Gibberd Garden, Harlow and Wysing Arts Centre and New Geographies project manager Matt Nightingale for all their support.