Art in Practice: School of Creative Arts Alumni showcase
Gallery 3 – Contemporary Design Crafts
---
Discover the Designers:
---
Katalina Caliendo
Imbricating, 2020
Porcelain
Imbrication, 2019
Black stoneware and porcelain
Sympoiesis, 2018
Bone china clay, mycelium and yeast
Photography credit: Sylvain Deleu
Katalina Caliendo uses clay to create experimental ever-changing forms. By mixing porcelain with mycelium and yeast, and leaving the form unfired for her Sympoesis vessels, Caliendo created living structures which will continue to evolve and transform. Her investigative work explores the nature of clay as a material but also sparks discussion of our relationship to the material and natural world.
After graduating with BA (Hons) in Contemporary Design Crafts from the University of Hertfordshire in 2019, Caliendo has exhibited with various galleries and events throughout the UK. She was awarded by the Queen Elizabeth Scholarship Trust in 2019. Caliendo is currently studying MA in Ceramics and Glass at the Royal College of Art, due to graduate in 2021. She is also a visiting lecturer for the Design Crafts programme at the University of Hertfordshire.
Website: katalinacaliendo.com
Instagram: @katalina_caliendo_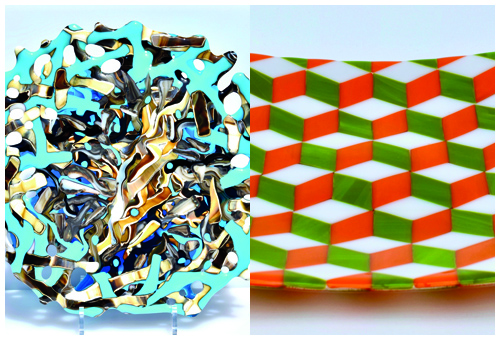 Amanda Charles
Squaring is Caring, 2019
Glass
Organic Planet, 2018
Glass
Amanda Charles' work is influenced by iconic contemporary art movements, drawing inspiration from the simplicity of Bauhaus Modernism to the complexity of non-representational Abstract Expressionism. She focuses on the expressive power of colour, intricate detail and pattern to achieve composition and chromatic harmony.
Since graduating with BA (Hons) in Contemporary Design Crafts from University of Hertfordshire, Amanda Charles has concentrated on developing her own glass practice championing the versatile and mesmerising qualities of the magical medium of glass. Her artworks are held in private collections across UK and internationally.
Website: amandacharlesglass.com
Instagram: @amandacharlesglass
Facebook: amandacharlesglass

Heather Curwen
Equinox 2, 2019
Silkscreen print on Fabriano Academia paper
Penumbra, 2019
Silkscreen print on Fabriano Academia paper
The layering of colours in the printing process enables Heather Curwen to capture the emotional sensations that are engendered by transitional moments in nature. Curwen is attracted by the processes of generation and decay, the cycle of the seasons, and the passage of the sun through the sky and the phases of the moon. Her work explores times of transition, and the patterns and rhythms of nature.
Curwen is a multidisciplinary artist with initial training in illustration and a lifelong interest in English literature and folklore. She graduated from the University of Hertfordshire with BA (Hons) in Contemporary Design Crafts in 2018, and continued directly onto MA Fine Art, due to graduate in 2021.
Website: hjcurwenart.com
Instagram: @hjcurwenart
Facebook HJCurwenArt
Christopher Paul Dean
Circular Dowel Composition No.1, 2015
Wood and paint
Extended, 2014
Wood and paint
Move Along, 2014
Wood and paint
Inspiration for Christopher Paul Dean's work is two-fold. On one side, he is interested in formal qualities such as colour, pattern, scale, texture and the presentation of these elements. On the other side, he is interested in the potential of ready-made, everyday familiar items being utilised as or for art. Intrinsic to his practice is also the subject of Ontology – the philosophical study of being, becoming, or existence.
Christopher Paul Dean graduated with BA (Hons) in Contemporary Applied Arts from the University of Hertfordshire in 2010, and went on to finish a Master's degree in Sculpture at The Savannah College of Art and Design in Atlanta, US. Dean has been featured in multiple publications, and has exhibited in numerous locations including London, NYC, Dallas, and in 2017 showed work at UNTITLED as part of Art Basel Miami Beach.
Website: cpdeanart.com
Instagram: @cpdean

Laura Felicity
Geo Wallpaper Design, Laura's Home Project, 2018
Screen printed wallpaper
Geo Fabric, Bespoke Blue Cushions & Lighting, 2018
Printed fabric

Laura Miligan is the artist behind Laura Felicity design, her passion for interior design has led her to create simple yet bold prints for domestic application. She designs her own prints and uses screen-printing techniques to bring them to life – applying ideas of pattern psychology and room design.
Miligan graduated from the University of Hertfordshire in 2009 with BA (Hons) in Contemporary Applied Arts. She has worked as a screen and lino printing tutor and a visiting lecturer for the Applied Arts course at UH. She has completed the AA2A residency which helped her develop her ideas and skills whilst teaching others. She now runs her own surface pattern design company, Laura Felicity, taking on private commissions to produce bespoke interior products. Miligan is also an interior stylist and blog contributor and continues her work in education as a visiting artist at Queenswood School in Hertfordshire.
Website: laurafelicity.co.uk
Instagram: @laurafelicity
Twitter: @Laurafelicity
Facebook: Laura Felicity Design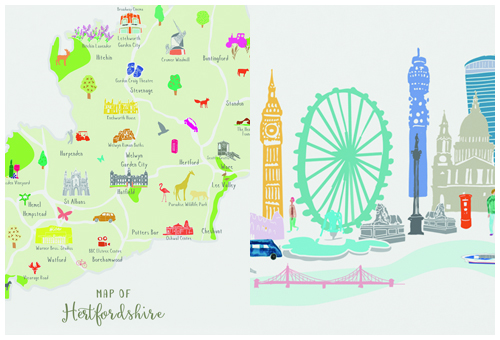 Holly Francesca
London Skyline, 2019
Pigment inks on paper
Map of Hertfordshire, 2018
Pigment inks on paper

Holly Francesca creates unique illustrations based on some of the most iconic places in the UK and the world. The work is as much about the research as it is about creating the illustrations. Looking for all the places that truly make a location special, no matter how quirky, Francesca draws these to form colourful maps.
Holly Berry, the illustrator behind Holly Francesca, graduated in 2009 with BA (Hons) in Contemporary Applied Arts from the University of Hertfordshire, and set up her business creating art prints in 2011. Francesca won a grant in 2013 through the University of Hertfordshire's Flare business competition. She has created illustrations for different departments around the University, from corporate gifts to wall murals and even the annual Christmas card. Since her first print, a Map of Kew Gardens, the Collection has grown to over 150 designs.
Website: hollyfrancesca.co.uk
Instagram: @hollyfrancescauk
Twitter: @_HollyFrancesca
Facebook: hollyfrancescauk

Katy Gillam-Hull
Clearwell Caves Vessel 1, 2018-2019
Glass and copper wire
Found Not Lost Brooch, 2017
Found glass, silver and fleece

Katy Gillam-Hull makes work fuelled by curiosity and informed by historical research and imagination alike. She predominantly works in precious metals incorporating found objects, often pieces of ceramic or glass. Whether she is working with a museum's collection or her own finds from mudlarking, she often considers the forgotten beauty or narrative of objects.
Gillam-Hull graduated from University of Hertfordshire with a BA (Hons) in Contemporary Applied Arts in 2015, with a term spent studying metalwork at Oslo Academy of the Arts. After graduation, she completed a 3-year residency with the Museums of St Albans and UH Arts that resulted in various installations and exhibitions. A member of 'Precious Collective' Gillam-Hull works from her studio 'Made by Ore' in London, where she also teaches jewellery classes.
Website: katygillamhull.co.uk
Instagram: @katygillamhull

Aran Illingworth
Madonna and Child, 2011
Hand-stitch on appliqued, recycled fabric
Madonna and Children, 2009
Hand-stitch on appliqued, recycled fabric

Aran Illingworth focuses on portraiture and the depiction of the human figure in textiles, inspired by the people around her. Illingworth's work is a visual narrative, which is intended to convey a certain emotion, and which focuses on subjects carrying a specific message and meaning. Women, poverty and social issues are key themes of her work. Her textiles offer a broader comment on the social conditions of the 21st Century. Illingworth's work attempts to combine heartbreak with hope and the strength of the human spirit in adversity.
Illingworth graduated from the University of Hertfordshire in 2010 with BA (Hons) in Contemporary Applied Arts, specialising in Textiles. She exhibits work both in the UK and internationally, and up until recently worked part-time in a secondary school as textile technician. She is now retired and spends more time on her artwork.
Website: aran-i.com
Instagram: @aranillingworth
Facebook Aran Illingworth – Textile Art

Cathy MacTaggart

My Mother's Work, 2014
Wool voile fabric, digital print, hand stitching
Supportive, 2014
Coat, lining, digital print
Cathy MacTaggart's practice draws attention to the small actions of ordinary women that add to the positive experiences of daily life. She hopes viewers will be reminded of people in their own lives when considering the work. Her current body of work explores the posture and gesture of manual workers, reflecting on how British society values and attributes power and status to the work of manual workers in comparison to office and city workers.
MacTaggart graduated with BA (Hons) in Contemporary Applied Arts from the University of Hertfordshire in 2014. During her studies, she got interested in how British society values women differently to men, and continued this theme while studying Masters by Research at Coventry University. MacTaggart has recently exhibited at Dundas Street Gallery, Edinburgh and Laura I Gallery.
Website: cathymactaggartartist.com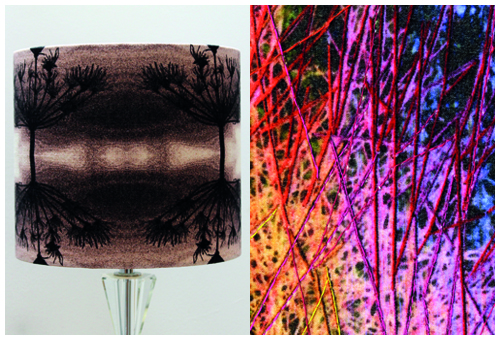 Sarah Moroney
Heartwood, 2015
Linen, cotton lampshade
Rainbow Grass, 2015
Velvet embroidered cushion
Sarah Moroney's textile practice encompasses traditional and modern techniques combining digital printing with hand stitch and embroidery to create unique designs. She photographs flowers and plants, and uses these as the starting point for the textile patterns. Moroney' prints are designed to work across different product areas and she likes to work in luxurious and natural fabrics such as silk, velvet and linen.
Moroney graduated from the University of Hertfordshire in 2015 with a BA (Hons) in Contemporary Applied Arts, specialising in Textiles. Since then she has combined working part time as an art technician in the School of Education at UH with continuing her design practice. She has exhibited at Living Crafts at Hatfield House, the One Year On exhibition and the Contemporary Textiles Fair.
Website: sarahmoroney.com
Instagram: @Sarahmoroney29
Facebook: Sarah Moroney Textile Design

Faye Munroe
Vessels 1 & 2, 2018
Porcelain grogged stoneware
Faye Munroe's ceramic work explores the tension between the man-made and natural environment. She uses heavily grogged black clay, stoneware and stained porcelain, and experiments with different ways of merging clay bodies and slab building. Her technique leaves a visible trace on the outside of each finished piece, which in turn echoes her observations of nature's disruptive force in the built environment, with its power to split structures – exposing human vulnerability.
Munroe graduated with BA (Hons) in Contemporary Applied Arts from the University of Hertfordshire in 2013. She has shown her work twice at the internationally acclaimed ceramics show "Art in Clay", and is currently stocked at "Flux", a contemporary craft gallery in Bristol that specialises in bespoke artworks.
Website: artsthread.com/profile/fayemunroe
Instagram: @Fayemunroe
Twitter: @FayeMunroe

Harriet Riddell
Mindy and Margarette, 2019
Cotton canvas, applique and cotton thread
We Are One, Brixton Square, 2017
Cotton canvas, applique and cotton thread

Textile performance artist Harriet Riddell's stitched drawings are conceived from observing the landscape, people and conversations around her. Travelling the world with her bicycle-powered sewing machine, Riddell invites passers-by to pedal the bike, powering her stitching and actively participating in the construction of her works. Her artwork responds to and interprets the transient world on to a permanent tapestry.
Riddell graduated with BA (Hons) in Contemporary Applied Arts from the University of Hertfordshire in 2012. She has created her textiles in various unconventional locations such as trains, laundrettes, bus stops and markets in countries including Kenya, Canada, India and Switzerland. Her work has been widely exhibited in UK and abroad. Website:
Website: harrietriddell.com
Instagram: @institchyou
Create it Share it: Freestyle Drawing