What's it like to live in student accommodation?
Make new friends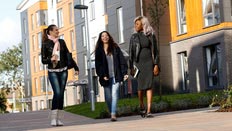 Going to university is a brilliant chance to spread your wings and live independently for the first time. Living on campus is also a great way of meeting other students and making new, lifelong, friends.
We have a fantastic range of halls on campus so you're always close to the social and learning facilities you need.
Most of our study-bedrooms are single rooms. However, there are some twin rooms on the College Lane campus and some students do share accommodation on a permanent basis. If you need family accommodation, we can give you advice and information on renting in the private sector.
Well equipped facilities
The student accommodation is well equipped with brand new and newly refurbished rooms.
You only need to bring your own bedding, towels, cooking utensils, crockery, cutlery and tea towels. If you bring a TV for your room, you will need to buy a TV licence.
Fridges and microwaves are provided in the communal kitchen areas of our halls of residence.
You will be responsible for keeping your own bedroom and the communal areas of your accommodation clean.
There is a no smoking policy throughout the University buildings and the halls of residence.
Feel safe and supported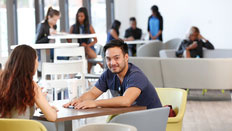 We are here to make sure you have the best experience possible while living in halls of residence.
If you have any queries, just email housingservices@herts.ac.uk or speak to one of your Student Support Officer or Resident Assistants. They are on hand to help 24 hours a day, 365 days a year, including Christmas and Bank Holidays.
Student Support Officers are responsible for student support including your welfare and all matters of discipline. We love to meet as many students as possible throughout the year and really want to know how you're getting on.
Resident Assistants are students just like you. They help you access support out of hours and have been given additional training and responsibility to ensure you always feel supported.
Unisecure, the University's security department also make sure our campuses are safe and secure.
Don't miss out
On campus student accommodation is extremely popular so to be in with the best chance of securing a room, you need to apply early.