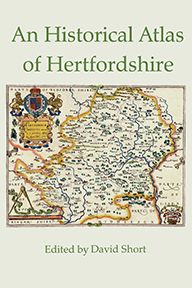 An Historical Atlas of Hertfordshire
Editor: David Short
Price: £25/$50
"
"The atlas is first-rate. The supporting texts are excellent, frequently... providing significant analysis as well as guidance to the sources. The production values are high. This work is one of the best of the county historical atlases."
Archives Journal
Not currently available.
About the book
"This is a particularly beautiful volume. It is printed in full colour, rather than in two colours which allows for rich mapping. Most of the maps are suitably large, allowing the reader to delve properly down into their contents. And, perhaps most creative of all, the contents are arranged within eleven themes rather than in the usual chronological format. This apparently minor innovation makes an enormous difference. Within a few consecutive pages, the strange disconnection of county, diocesan, poor law and local government boundaries is laid bare; shifting settlement patterns from Palaeolithic to Anglo-Saxon can be compared over another seven pages; while the histories of the garden cities and the new towns – first introduced in Hertfordshire – are beautifully illustrated." Susan Oosthuizen, University of Cambridge
"This is an attractive and accessible volume that will be of interest to many and a fine addition to the growing number of county historical atlases." Sarah Spooner, Rural History
"This long-expected atlas has been well worth the wait. [It] is a rich compendium of Hertfordshire history and a pleasure to handle." Herts Past and Present
With over eighty maps and accompanying articles, the Historical Atlas of Hertfordshire contains an immense amount of research which will be invaluable to all those with an interest in the history of this important English county.
Arranged thematically, it guides the reader through geology, geography and topography, administrative organisation, buildings, transport and communications, demography, settlement, agriculture, industry and trade, landscape, religion, welfare, war and civil unrest.
More about the book

Although it is one of the smaller counties, Hertfordshire is surprisingly diverse. Lacking any simple topographical uniformity, its natural features have in turn influenced the development of the county's landscape, settlements and industries.

The diversity and particularity of Hertfordshire help to explain the wide range of topics presented in this atlas, but the breadth of the book is also due to the variety of interests that Hertfordshire local historians display.

Few county historical atlases can boast such detailed information on, for example, ice-houses, dovecotes, medieval and Tudor graffiti, local volunteers for military service, or eighteenth- and nineteenth-century transportations and executions.

Hertfordshire has had an essentially agrarian economy for much of its history, but has nonetheless benefited from the development of a number of important industries. It may not have been at the cutting edge of the industrial revolution, yet it has certainly not been devoid of manufacturing activity.

From the later eighteenth century forwards it boasted significant involvement in paper-making, silk throwing, brewing and malting and – more distinctively – the straw plait industry, for which it assumed an importance surpassed only by neighbouring Bedfordshire.

The twentieth century witnessed the rise of printing, pharmaceuticals, a film industry and the extraction of aggregates. All these areas of activity are explored in detail as is the long history of settlement in the county, from the Palaeolithic period to the Garden Cities and New Towns.

Read a sample chapter

About the Editor/s:
ISBN: 978-0-9542189-6-6 Format: Paperback, 224pp Published: May 2011
Any questions
Contact us at UH Press if you have any queries or would like to find out more about this book.