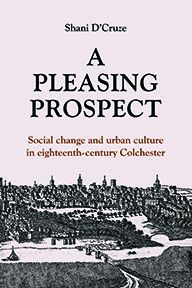 A Pleasing Prospect
Social change and urban culture in eighteenth-century Colchester
Author: Shani D'Cruze
Price: £18.99/$37.95
"
"The use of 'thick description' and detailed case studies is central to the success of this book. It is through the careful unfolding of the stories of particular families, clubs, bankruptcies and court cases that we truly get to grips with the nuances and contingencies, but also the inter-related nature of each aspect of provincial urban life."
Not currently available.
About the book
"[T]his is a book rich with detail and insight into a century of Colchester's history... The book is arguably most impressive in its case studies of particular individuals and families, which are based on a meticulous search of local sources and a formidable amount of record linkage.... A Pleasing Prospect is an exemplary town history which demonstrates both thorough and painstaking archival research and a knowledge and understanding of a variety of related historiographies." Hannah Barker, Economic History Review
Based on extensive primary research (the author has had special access to the John Bensusan Butt archive, the most detailed private archive on eighteenth-century Colchester), A Pleasing Prospect considers the changing historical identity of eighteenth-century Colchester from the perspective of its 'middling sort' - a section of society which has recently attracted greater attention from historians.
Dr D'Cruze painstakingly reconstructs eighteenth-century social networks along lines of family, kinship, gender, spatiality, religion and politics to examine the relationships between individual and family biographies and broader historical change and to reflect on the historical identity of the middling sort as well as on eighteenth-century provincial urban society and culture.
More about the book

In the past historians have tended to concentrate their attention on faster growing (often northern) towns than those broadly perceived as having been overtaken by industrialisation.

Colchester was a large southern provincial town which, despite the decline of its staple textile industry, capitalised on growth in agriculturally based industries such as brewing, milling and malting, its role as an east-coast port and the proliferation of its commerce, to underpin its participation in the 'urban renaissance' and the commodification of polite culture.

With both lively political interests and all the institutions of local governance, Colchester added a political dimension to middling-sort identity along an axis dividing independent (male) citizens from those whom poverty rendered dependent. Another axis explored by Dr D'Cruze is that between politeness and disorder.

Read a sample chapter

About the Author/s:
ISBN: 978-1-902806-73-0 Format: Paperback, 256pp Published: Apr 2009
Any questions
Contact us at UH Press if you have any queries or would like to find out more about this book.