UH Arts + Culture are delighted to invite you to join us for a FREE guided tour of our Sculpture Walk.
Whether you fancy taking a mindful break from work or studies, or you're looking to try something new at the start of term, our guided Sculpture Walk provides an opportunity to enjoy both art and nature. A member of our knowledgeable Art Collection team will introduce you to each of these unique artworks whilst you enjoy a refreshing walk.
New to the University? Don't miss this opportunity to explore campus and learn about our UH Art Collection!
About the Sculpture Walk
The Sculpture Walk is part of the University of Hertfordshire Art Collection, which features over 500 artworks.
The Sculpture Walk presents an eclectic group of works which map the changing characteristics of British Sculpture since the 1950s. You will encounter an abstract stone sculpture by the iconic Barbara Hepworth, a bronze torso by Henry Moore's pupil John Farnham, and a bespoke wall relief map by Trevor Tennant. The trail reveals Land Art by Andy Goldsworthy, as well as sound sculpture, interactive sculpture, and assemblages. The scale of sculptures ranges from a life-sized bronze commemoration of Sir Geoffrey de Havilland to ambitious steel interventions and structures by University of Hertfordshire alumni.
More about the UH Art Collection
The UH Art Collection dates back to 1952, when a small group of artworks were acquired to mark the opening of Hatfield Technical College. From the outset, value was placed on integrating works of art into an educational institution. Over the decades the Collection has grown to enhance and animate the extensive University grounds. Today it introduces sculptures, paintings, prints, photographs, drawings, textiles, and ceramics into the public spaces where people study, work, or visit.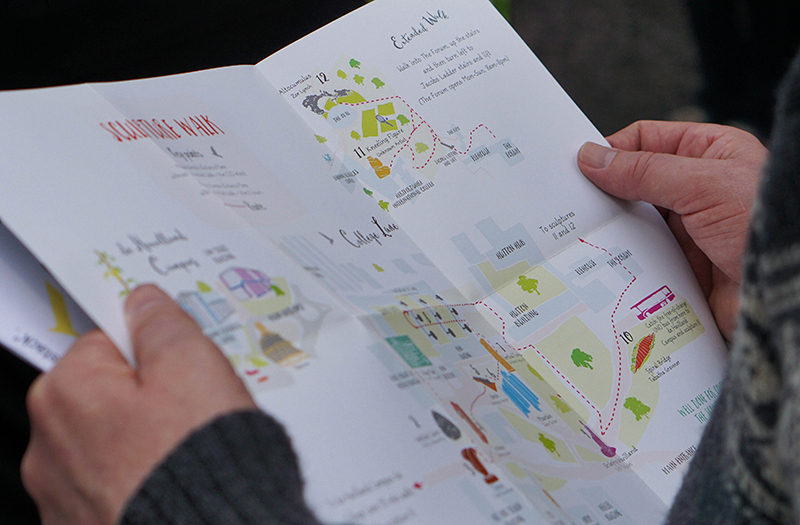 More Information
Booking is encouraged but not essential. Please meet outside the Art + Design Gallery on College Lane campus as this is where the tour will begin. Children must be accompanied by an adult.
Parking on Campus
The first two hours of your stay on campus are FREE, and you will only be charged £2 for the day after that. If you only plan on parking at the University for under two hours, you do not need to register with Hozah. Please park in Student Car Park E.
Download the Parking Map or for further information, visit the University Page on Parking