The week
I didn't have sex
I ate shrimp.
I
wanted to so
badly across the bed, no ocean
that's just an indication of how things were that week
weak isn't the right word
because I was ripping things apart to touch
the insides
back to the prawns,
that week I ate a lot with my hands
dug my now slightly grown nails into the hard
rucksack of orange outer casing
and splitting its back open until fingertips touched
the inner spoils of pinked shrimp flesh
the bursting gush of saltwater innards
came over my fingers pressing
my plump mouth sucking and licking over
the rump of thick white meat
bent over in that familiar curl
I pulled off those legs and jackets
round the body in one go like peeling a whole apple
with your grandmother's sharp paring knife
or removing a shirt over shoulders in one quick
flick or a slide, even
gliding off naked shoulders
I devoured half a pound of prawns
sucking at the severed heads
that feverish sucking
succulence dripping
into my knuckles and coating me with
wet
prawns bulging into the pot of white
mayonnaise I think I'm going to come
home soon.
Imogen Turner, London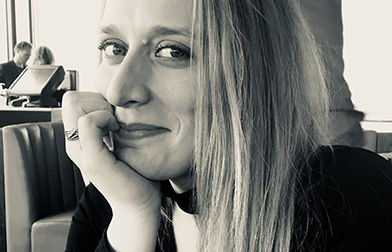 Imogen Turner is a 29-year-old poet living in London. When she's not working, Imogen can be found studying psychology part-time with the Open University or spending time with her gorgeous, gregarious family.
Imogen is grateful to poetry for allowing her to say the unmentionable under the guise of producing art. She is currently working on her first poetry collection, exploring themes of disassociation, female sexuality and the self.