Tell me if you prefer your carrots as sticks or coins and I'll always remember
The last carrot you pull will always be the best, someone once said, but you can think of carrots as torches – eat them and you can stay up all night playing with a labrador. You might cook a carrot in honey and butter but you can just as easily chew until you can't swallow, or find it in your potato in lumps. A labrador's eyes are sprouts in torchlight, its wet, slobbery tongue a small fork, the head of a cauliflower, or a rabbit from one of the fields. A rabbit might prefer cabbage but a sundial can tell you when it is time to be hungry, hungrier and hungriest, or be garden gloves, ones too short to protect you from nettles, or a cat on the roof of the shed. A labrador might wait for you in the pagoda but you can always throw something over the fence with a shovel. A smaller dog might crawl under the fence and bark to be let out, but you can't run full speed in wellington boots. It might be quiet enough to hear the slugs eating strawberry leaves, but you can't always hear a hand being accidentally placed on a still-hot hob, or tools falling from their hooks, or the cat asking to be rescued from behind the shed. The raspberries might be ripe, they said, and they might be your favourite fruit, they said, but a labrador will always guard the back door and follow you out in the morning.
Jenna Clake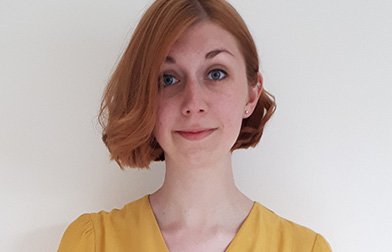 Jenna Clake's debut collection, Fortune Cookie, was awarded the Melita Hume Prize and shortlisted for a Somerset Maugham Award.
A pamphlet of her prose poems is forthcoming from Verve Poetry Press.
In 2018, she received an Eric Gregory Award from the Society of Authors.