Imaginary Shame Artworks
Idea for Shame Artwork 1 (Shame Particles)
[The idea for shame artwork 1 was very bad and has therefore been removed by the author]
Idea for Shame Artwork 2 (Fête)
i. Bunting, badly hung. Each flag is printed with a shameful memory. Some of the flags are very long and some are short.
ii Cake stall. Confectionery breasts on raised platters angled up and out to viewer on spindly, gravitationally impossible supports [ref. Dr Seuss]. Intricate cupcake mosaic of ?? toothed vagina ?? [edit later]. Iced 'crinoline' cake with Barbie (TM) torso centre piece [credit: Nigella Lawson]. Nipple tassels.
iii Woman-only Town Cryer Competition. Winner to [w]ring bell/hands and announce events while muzzled and blinkered [+ ?? splinted wrists ??]. Competitors to complete circuit of fête in wench outfit (standard UK size 10) on knees. Must be good organiser.
iv Tombola. Perpetually self-turning tombola machine. Line of dusty, half-filled liquor bottles. Broken-necked real ale selection. Chocolate box of wrappers / white-flecked chocolates. Dog's soft toy (damp). Splayed piles of blank paper spilling on to floor [can be walked on]. Wine glass (used). Small bowl of ash. Rotten fruit basket. Bread-making machine with grey dough leaking out. Electric breast pump (no plug, wires exposed). Coffee-stained clock radio with blinking display: 4:17am. Unwashed duvet set. Presentation jewellery box of browning baby teeth. Tombola ticket attached to each item printed with the word 'WINNER' and random year from 1969 to 2018.
v Tent of Preservations: Subterranean. Cryptal. Glistenings. Clinkings. Things in jars.
vi Fortune Teller: Bank counter. Reinforced glass. Hatch and grid. Cashier number 1: poor quality waxwork of Tilda Swinton (circa Narnia). Cashier number 2: female figure in blouse, skirt and courts, with the head of a crocodile. Set of scales. Player approaches by means of queue-barrier labyrinth. On prostration an item / items may be passed through hatch (coppers, boiled sweet, sweepings, beetles, sand, cloud, palm-sized pulsating heart).
vii Slutty Dress Parade. [Age limit TBD]
viii Test Your Strength Machine. Vintage petrol pump fitted with pressure pad, power gauge, alarm bell / klaxon. Fifty-pound mallet. On successful strike, alarm sounds and 'GOOD EFFORT' appears in lights.
Lucy Tunstall, Bristol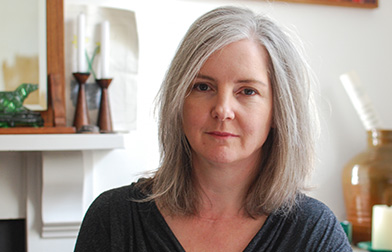 Lucy Tunstall lives in Bristol. Her poems have appeared in Poetry, The Poetry Review, PN Review, The Paris Review Daily, The Guardian Online and New Poetries V.
Lucy's debut collection is The Republic of the Husband (Carcanet, 2014). She is working on a second collection, Organised Fun and a non-fiction book on Plath, visuality and contemporary poetry.