Physics with Science Education, BSc (Hons)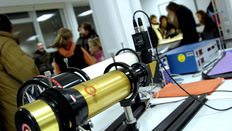 From 2017 you can combine Science Education and Physics by studying for a BSc (Hons) Physics with Science Education.
Gain Qualified Teacher Status
The BSc Physics with Science Education degree is a new degree run in cooperation with our School of Education. You will receive the training required for Qualified Teacher Status and will graduate with a BSc (Hons) that is accredited by the Institute of Physics.
At the end of your degree, you will have gained the teaching experience required to go straight to QTS and start a job as a school Physics teacher.
Financial support
A bursary of £9,000 will be provided by the Dept of Education in your final year.
More about the degree
The First and Second Years of the Physics with Science Education degree are similar to our standard BSc in Physics but with the addition of:
teaching observation in an assigned school - First Year.
School Based Training 1 (40 days) - Second Year.
core modules - Third Year:


computational physics
contemporary quantum physics
dynamics geometry
waves and fluids
You will also gain subject knowledge for physics teaching (30 credits) in:
Physics Teaching Enquiry (15 credits)
School Based Training 2 (25 days)
School Based Training 3 (55 days)
How to apply
This is an opt-in degree at Level 5 so you don't need apply directly for it. Instead you will transfer in to the course from the BSc in Physics degree.
More information
Please email Dr. Jason Stevens, the Admissions Tutor in the School, for further details.