Pharmacy facilities
The Department's brand new Science Building opens in September 2015 providing us with world-class laboratories for our teaching and research. At a cost of £50m, the new building provides spacious naturally lit laboratories and social spaces creating an environment that fosters multi-disciplinary learning and research.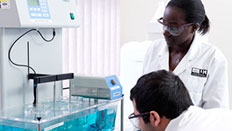 Amongst the learning environments accommodated within the building are a mock pharmacy, dispensing laboratories and a clinical simulation centre including primary and secondary care environments. In addition we have teaching and research laboratories equipped with state of the art technology including chemistry, physiology, pharmacology pharmaceutical manufacturing and analysis laboratories, cell culture and aseptic suites.
Newly equipped optical laboratories and clinical assessment cubicles for optometry and a further clinical simulation centre are housed in the health research building.
The department also runs a working pharmacy on campus for staff and student use.