Religious Studies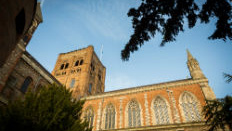 Gain an in-depth insight into how the ideas, beliefs and practices of some of the world's major religious and spiritual traditions have influenced, and been influenced by, the modern world.
By choosing the University of Hertfordshire's pathway in Religious Studies, you will combine insights from Philosophy, Media Cultures and other disciplines to gain a deeper understanding of how religion is central to many social, political and ethical issues.
Modules are designed to interest students of all faiths and none. Whether or not you identify with any religion, you will find that your perspective on the world is enriched, as we explore questions on the meaning of life that go to the core of what it is to be a human being.
The Religious Studies pathway is equally appropriate to students who have not previously taken the subject and those who have studied it before and desire to deepen their knowledge and understanding.
Religious Studies sheds light on many other Humanities subjects. Explore undergraduate degrees related to Religious Studies.
What will I study?
The Religious Studies pathway introduces you to various theories of religion; the ideas, beliefs and practices of some of the major world religions - such as Judaism, Christianity, Islam and Buddhism; and how religion impacts - and is impacted by - some important contemporary controversies, such as those concerning gender, sexual practices, the environment and climate change, including their representations in the media.
Year Two and Three modules go on to explore issues in the philosophy of religion and ethics; the dialogue between religious and secular thought in historical and contemporary contexts; and the engagement between religion, media and popular culture.
Career opportunities
Religious Studies provides students with capacities of religious literacy and cultural agility that are valuable in any profession that involves dealing with the public.
You will be equipped for a variety of careers including:
journalism and the media
teaching and education
management
the Civil Service
any profession with a strong international, multicultural or public-facing component
Understanding how people live their different faiths is crucial to navigating a globalised world. Being able to communicate effectively on these matters will give you an edge in the job market and the work-place: graduates in this area are good communicators with enquiring minds.