Spanish
Why study Spanish?
Spanish is second only to English as an international language, with more than 500 million speakers worldwide. It has the second largest number of native speakers in the world. In addition, 20 million people decide to take up Spanish every year and demand for it has doubled in the past few years.
As Spanish is spoken in so many countries, it is an essential tool for the business world, and knowing Spanish can vastly boost your appeal to employers.
Speaking Spanish will enable you to immerse yourself in the rich cultural offering available across 20 Spanish-speaking countries.
What we offer in Languages
We offer Spanish at three different routes. You will study two language modules per academic year. As a minor subject, Spanish will serve as an excellent complement to various fields and enable you to acquire additional employability skills (intercultural awareness, resilience, time management, etc.) that will widen your opportunities and enhance your salary prospects.
| Level | Spanish language requirement |
| --- | --- |
| Beginner – Route A | No prior knowledge or GCSE grade 5 or below |
| Intermediate – Route B | GCSE grades 6 to 9 or AS grade D or E or equivalent |
| Advanced – Route C | A-level pass or AS grade C or above or equivalent |
You will normally be required to study at a level commensurate with your prior knowledge or qualifications. For example, if you have a GCSE grade 6 in Spanish, you cannot choose the beginner route.
If you already have a very high level of proficiency (e.g. you are a native speaker or you have lived in a Spanish-speaking country), you are not eligible to study Spanish. In this case, choosing an alternative language would be an excellent option for you.
If you are unsure about your level or eligibility, please contact us at languages@herts.ac.uk and we will be happy to advise.
We may decide to informally assess your level when you arrive and, if appropriate, place you on an alternative route.
Classes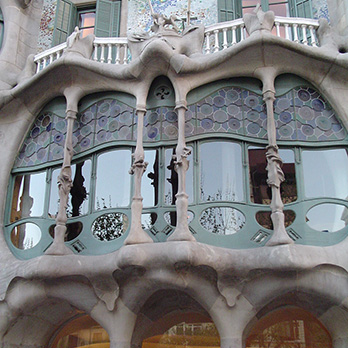 Whether you are a complete beginner or looking to build your Spanish on higher level routes, you will learn Spanish in a friendly environment. Our modules build confidence in communication from day one. We run a series of lectures, seminars and language lab sessions so that you can practise the reading, listening, writing and speaking skills. You will also gain a greater understanding of the societies and cultures of Spanish-speaking countries.
As well as being enjoyable and useful, studying a language can prepare you to spend one or two semesters in a foreign country at one of our many partner universities. Students who have taken up this opportunity have found their experience thoroughly enjoyable and enlightening, and that it provided them with a bonus when applying for jobs after graduation.
We look forward to welcoming you!