School of Humanities flare finalists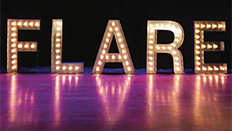 flare is the University of Hertfordshire's annual business start-up competition which supports and encourages students and alumni to launch and develop new innovative businesses.
The competition offers our budding entrepreneurs support and training to help bring their ideas to life.
flare finalists
Kirsty Peters
flare proposal
KirzArt - The illustration company, offering personalised BME digital art portraits and greeting cards
The flare competition was a great experience. I was able to develop my greetings card business idea more thoroughly; I received some fantastic feedback and will use the advice and knowledge I've gained to succeed in my business in the future.
Course studied

Beverley Agyeman and Naomi Hall-Fantie
flare proposal
Lunaire Events - An online events platform where clients can find events planner and plan their own event.
We want to say a big thank you to the Enterprise team - we wouldn't be where we are without your support. Although we weren't among the winners, we now have a great business plan, and are in early stages of operation. We're so proud to be considered good enough to compete with the amazing finalists!
Course studied

Sherry Foo and Mei Rei Qua
flare proposal
Project Prodigy - The online marketplace, connecting creative students with industry professionals.
flare was a wonderful experience for the both of us. We met many people, entrepreneurs and individuals, throughout this journey who all help helped us to be better. We are so grateful for this once in a lifetime opportunity.
Course studied

Find out more about flare
Visit the flare website for more information on the competition and how you can take part.