Why study Mass Communications?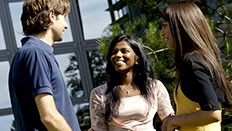 The media industry requires graduates who understand both theory and practice. In a competitive environment, it is vital that you have knowledge, skills and determination if you wish to succeed.
In the Mass Communications group of subjects, we pride ourselves on giving our students both the understanding they need to succeed as well as the practical skills.
Learn from professionals
In the Media group our staff have professional experience of working in the media industry. Many of our courses are industry focused, with students undertaking 'real world' projects and work experience. In addition we run a series of guest lectures with experts from the creative industries. This year we had Bill Coles, tabloid journalist and author of new book "Red Top", Phil Hall, former News of the World editor and media commentator and Jon Henley, Guardian journalist and foreign correspondent along with many other practitioners from the world of journalism and media.
Teaching varies according to the needs of the subject – if you are learning film theory, for example, you will usually be taught in a traditional lecture + seminar format. If, however, you are learning a theoretical/practical skill set– such as building a website or learning to write news and feature articles in journalism – you are more likely to be taught in a three-hour block, during which you will have exercises and practical demonstrations.
This makes the study of Mass Communications varied and interesting – as well as a first step towards a career in the media.
Postgraduate study
Many of our undergraduate students continue their studies with us choosing to specialise further with a postgraduate degree in Journalism and Media Communications. We have a community of graduates undertaking MAs and research degree and this MA has 100% employment track record.