Media and Publishing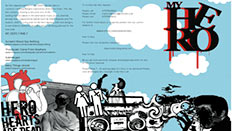 Do you want to write for a living and learn how to publish your own work on a broad range of platforms - web, blogs and media - print, video, audio and multimedia?
Students studying this course will gain a theoretical and critically reflective understanding of media while gaining practical skills as an author and designer of published material in variety of formats including print based publications to broadcast and advertising campaigns to web based publications.
By studying media, you will gain a theoretical understanding of media and will foster your ability to critically comment on media practice. Media combines theoretical and practical skills to enhance your creativity and the technical skills needed to go into the media industry. By studying this subject you will become media practitioners working as a professional writer and able to design media
Studying publishing alongside media you will learn how to create online publications within a legal and ethical framework. Students learn how to enhance their work with supportive visual content as they explore the potential of publishing to a range of platforms including interactive websites and a variety of social media.
Throughout the course you will be asked to run your own projects, design media campaigns, develop professional writing skills, design magazine layouts and websites while integrating publishing theory into practical projects. Publishing students need to be entrepreneurial, flexible, adaptable and committed, and we will help you develop these qualities
Year 1
Everyone will study Media Cultures, Journalism and New Media Publishing in their first year. You then have the option to choose one of the three optional subjects to study in your first year.
Core modules
Media Cultures

Introduction to Media Communications
Media and Society

Journalism

Journalism Skills: Print News and Features
Journalism Law and Ethics

New Media Publishing

Graphics for the Web
Web Animation

Optional

Creative Writing

The Writer's Art
Becoming a Writer

Film

Introduction to Film Criticism
Introduction to Film Theory

English Language & Communication

Talking to Others: Theory and Practice of Communication
Language Analysis

Year 2

Year 2 modules

Research Methods
Become a Publisher
Design for Print
Journalism Skills: Print New, Markets and Styles
Media in an International Context
Social Media
Journalism Skills: Features, Markets and Styles
Digital Storytelling

Year 3

Year 3 modules

Digital Media
Corporate Communications
Web Design for Publishing
New Media Publishing Project (double module)
Advertising
Campaigns and Careers
Advanced Web Design

What areas of media and publishing can I work in?

Media

There are just under one million people employed in the UK media industry, according to the UK Commission for Employment and Skills (UKCES). Opportunities for employment can be found in:

advertising
film
interactive media
marketing
radio
television

Publishing

In contrast the publishing industry is smaller, with 148,000 people employed in the UK. There are a number of areas you can enter including:

book publishing
b2b publishing
education publishing
journals and periodical publishing
newspaper and magazine publishing
social media publishing
web publishing

Careers

Our Mass Communications Programme students have gone on to secure employment as:

Senior Creative Designer (BWI Ltd)
Content Marketing (Reprise Media)
Senior Feature Writer (Take a Break)
Publishing Project Editor (Learning Solutions - Pearson)
Senior Digital Marketer & Web Developer (R3 Group)
PR and Editorial Assistant (Cubiqdesign Ltd)
Editor at UMEN Magazine (Jordan)
Assistant Director of Learning and ICT & International Schools Coordinator (Longdean)
Press and Policy Officer (Retail Motor Industry Federation)
Senior multimedia reporter (Trinity Mirror Group PLC)
Executive HR at (SEGi Malaysia)
Marketing Executive (Eckoh plc)
Content Analyst (UK Knowledgebase)

Assistant Film Director (HK)
Graphic Designer (Mostaix Malaysia)
Journalist (Malay Mail Malaysia)
Client Partner (Clearhead Media)
Internal Communications Specialist (Abu Dhabi - General Secretariat of the Executive Council)
Journalist (New Strait Times Malaysia)
Copywriter (Win Technologies)
Account Executive (Priority Communications Malaysia)
Intern (Fashion and Celebrity Gossip – LiveLikeaVIP.com)

Information taken from our alumni from LinkedIn - June 2014.

Apply

Media and Publishing guide

Mass Communications Programme Leader

Peter Thomas