Mass Communications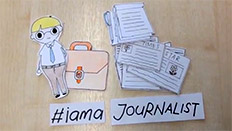 On this course you will develop core skills in Mass Communications and study 4 out of 6 subjects from:
Film
Journalism
New Media Publishing
Creative Writing
Media Cultures
and English Language & Communication
You will enhance your employability while learning about the exciting and ever-changing world of media and publishing.
Taught by leading academics and experienced media industry professionals, this degree is designed to help you become a knowledgeable, reflective and critical thinker, able to understand global media industries in all their contexts.
Students' Experience
"The good facilities and supportive tutors have made the University of Hertfordshire a great place to live and study. Studying Mass Communications has allowed me gain a deeper insight into mass media and equipped me with necessary skills which can help me in my future career." Lau King Ming
[The module that I liked the most was] "Web Design. This subject has provided me knowledge and a variety of skills in developing a website in Dreamweaver." Charlie Tan
"Studying Mass Communications is the best decision I could have made. I have enjoyed studying the diverse range of subjects and it has allowed me to gain an insight into what I want to do in the future. I am in my third year and have chosen the Journalism Portfolio module and the New Media Publishing Module and have thoroughly enjoyed learning and developing my skills which would hopefully be beneficial to me in the future." Jonathan Brown
"I have really enjoyed my time at the university studying Mass Communications. The staff are very enthusiastic, helpful and experienced in their fields which makes the subject areas even more enjoyable. I particularly liked the Film modules, where I learnt that there is a deeper meaning in films beyond what we see. I was able to apply this to my short film that I produced in the second year, where I found I enjoyed the editing aspect." Komal Gorasia
"What makes the Mass Communications course stand out is that it allows you to gain industry experience in a range of subjects. For example, the New Media Publishing 'Web Design' module allowed me to experience the different ways in which a website could be implemented and the 'Design for Print' module allowed me to combine my passion for journalism with design skills and create a double page spread for a magazine." Juliette Perks
"After I completed my undergraduate degree, I went on doing an MA degree in Film and Television Aesthetic, in which I gained not only knowledge on film and television, but also actual working experience in the industry. I was lucky enough to do work placements with Barbican Centre and British Film Institute (BFI), in which I gained valuable knowledge and experience in film programming and film festivals/seasons.
Upon graduating MA, I was lucky enough to be offered the position of second assistant director and I am currently working on my first feature film back in Hong Kong (with HK director Clifton Ko Chi Sum)." Paris Wong
An international student perspective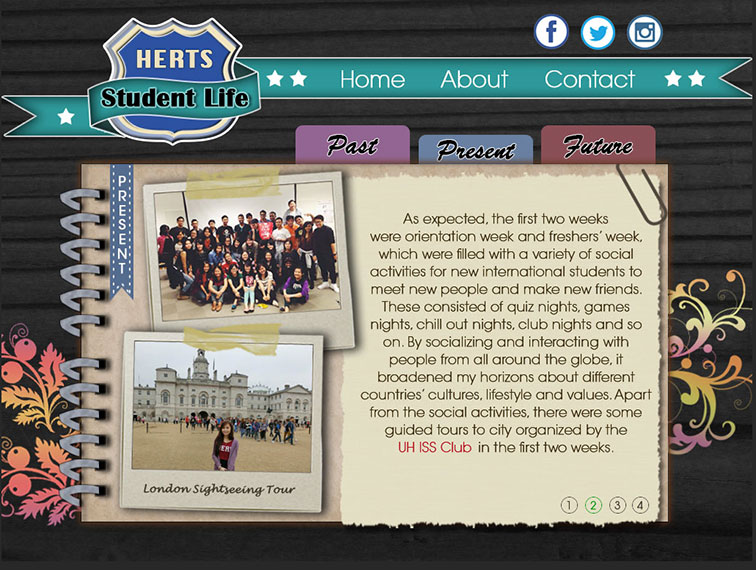 Year 1
Everyone will study Media Cultures in their first and second year. You then have the option to choose three of the five optional subjects to study in these years.
Core modules
Media Cultures

Introduction to Media Communications
Media and Society

Optional

Film

Introduction to Film Criticism
Introduction to Film Theory

Journalism

Journalism Skills: Print News and Features
Journalism Law and Ethics

New Media Publishing

Graphics for the Web
Web Animation

Creative Writing

The Writer's Art
Becoming a Writer

English Language & Communication

Talking to Others: Theory and Practice of Communication
Language Analysis

Year 2

In Year 2 you will study the same combination of subjects as in Year 1.

Optional modules

Media Cultures

Research Methods
Media in an International Context

Film

Film Production
European Cinema: Nation and Performance

Journalism

Journalism Skills: Print News, Markets and Styles
Journalism Skills: Features, Markets and Styles Performance

New Media Publishing

Design for Print
Digital Storytelling

Creative Writing

Writing for Stage and Screen
Genre Writing: Building Worlds

English Language & Communication

Language in Society
Forensic Linguistics

Year 3

In your final year you can choose to follow the same structure as Year 1 and Year 2, or you can specialise in three or two subjects. For example, you can specialise in two subjects by selecting all four modules for both.

Optional modules

Media Cultures

Digital Media
Corporate Communications
Advertising
Campaigns and Careers

Film

US Cinema: From Studio System to Digital Era
Film in the Global Age
Video Essay
Television Drama

Journalism

Journalism, Government and the People
Journalism Portfolio (double module)
Online Journalism

New Media Publishing

Web Design for Publishing
New Media Publishing Portfolio (double module)
Advanced Web Design

Creative Writing

Tell It Slant: Writing and Reality
Creative Writing: Independent Project
Dark Materials: Young Adult Fiction
Adaption: From Page to Stage to Screen

English Language & Communication

Issues in English
Communication and Cultures

Careers

Our Mass Communications Programme students have gone on to secure employment as:

Senior Creative Designer (BWI Ltd)
Content Marketing (Reprise Media)
Senior Feature Writer (Take a Break)
Publishing Project Editor (Learning Solutions - Pearson)
Senior Digital Marketer & Web Developer (R3 Group)
PR and Editorial Assistant (Cubiqdesign Ltd)
Editor at UMEN Magazine (Jordan)
Assistant Director of Learning and ICT & International Schools Coordinator (Longdean)
Press and Policy Officer (Retail Motor Industry Federation)
Senior multimedia reporter (Trinity Mirror Group PLC)
Executive HR at (SEGi Malaysia)
Marketing Executive (Eckoh plc)
Content Analyst (UK Knowledgebase)
Assistant Film Director (HK)
Graphic Designer (Mostaix Malaysia)
Journalist (Malay Mail Malaysia)
Client Partner (Clearhead Media)
Internal Communications Specialist (Abu Dhabi - General Secretariat of the Executive Council)
Journalist (New Strait Times Malaysia)
Copywriter (Win Technologies)
Account Executive (Priority Communications Malaysia)
Intern (Fashion and Celebrity Gossip – LiveLikeaVIP.com)

Information taken from our alumni from LinkedIn - June 2014.

Apply

Mass Communications guide

Head of Mass Media Communications

Mimi Tessier