Journalism and Media
Year 1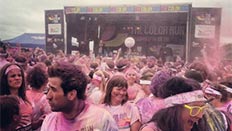 In journalism you will develop professional writing skills with an awareness of the target audience and the legal and ethical framework for publishing.
The academic study of journalism involves the development of key journalistic skills including the ability to write a news story, conduct an interview and put together a feature article.
Students also conduct an analysis of the differences between types of newspaper and the news values they display, examine major ethical and legal issues pertaining to the practice of journalism in the UK.
Studying media will give you the opportunity to work creatively, the image above is an example of a student project we submitted to prestigious D&AD competition, New Blood Awards, (Nokia brief) by Rhys Bennett 2014 who was shortlisted. We are proud of our students and have high expectations of their success.
Everyone will study Media (Media Cultures and New Media Publishing) and Journalism in their first year. You then have the option to choose one of the three optional subjects to study in your first year.
Core modules
Introduction to Media Practices (core induction module)

Media Cultures

Introduction to Media Communications
Global Media and Society

Journalism

Introduction to Journalism
Journalism Law and Ethics

New Media Publishing

Visual Communication
Interactive Media

Optional

Creative Writing

The Writer's Art
Becoming a Writer

Film

Introduction to Film Criticism
Introduction to Film Theory

English Language & Communication

Communication, Interaction, Context
Language Analysis

Year 2

In the second year there is a broadcasting stream with an emphasis on video, radio, social media and magazine layout and the final year will develop expertise in on-line journalism, advertising and corporate communication management.

Students should be keen to develop their communication skills, both written and verbal, analyse newspaper and magazine content. You need the ability to use your own initiative, work under pressure and conduct research.

Studying media alongside journalism will give you a theoretical understanding of media and will fosters your ability to critically comment on media practice. Media combines theoretical and practical skills to enhance your creativity and the technical skills needed to go into the media industry. By studying this subject you will become media practitioners working as a professional writer and able to design media campaigns, broadcasting, magazine layouts, websites.

Year 2 modules

Graduate Skills
Research Methods in Media Communications
Journalism skills: News
Radio Journalism
Magazine Design
The Publishing Industry
Social Media
Journalism Skills: Features
Video Feature

Year 3

In the final year, the course places a strong emphasis on exploring practical aspects of media productions, helping students to acquire the skills to work in specialist areas of media, such as Advertising, and Corporate Communications.

It is this combination of theory, practice and life experience that makes Media Cultures a stimulating, challenging and enjoyable area of study.

Year 3 modules

Graduate Skills
Digital Media
Corporate Communications
Journalism, Government and the People
Journalism Portfolio (double module)
Advertising
Campaigns and Careers
Online Journalism

Students' experience

[The most enjoyable course was] "online journalism the most. I find the subject is interesting in a way that we learn how internet works, how a journalist write in printed media or social media." Mandy Mok

"I would definitely recommend the course to anyone. I have enjoyed learning how the media as a powerful source of information and entertainment is manipulative and the various ways in which image media content can be encoded within my Media Cultures modules. I would like to go into PR or Advertising and have found the Media Cultures subject both interesting and beneficial." Alea Brooke

"I just wanted to drop by a quick email to say thank you to every one of you for the support and opportunities you gave to me and everyone studying at UH.

You have all been fantastic lecturers and given me superb career advice, I have found that my confidence has grown because of your time and patience you have had with me for the past three years. I not only learnt a great deal at university, but I also enjoyed learning and being in your company and could not have asked for anyone to be any more supportive. It was not just the assignments and deadlines but the discipline, motivation and passion for each module on the Mass Communications course that I found was sincerely down to your excellence in teaching and specialist area. I could not describe the teaching as any less than five stars and you always found the time outside of class to help me with anything I was struggling to understand- always going out of the way to make sure students such as myself felt ready for assignments. I really appreciate the commitments you make to the University of Hertfordshire and the students." Jenny Chu

Careers

Our Mass Communications Programme students have gone on to secure employment as:

Senior Creative Designer (BWI Ltd)
Content Marketing (Reprise Media)
Senior Feature Writer (Take a Break)
Publishing Project Editor (Learning Solutions - Pearson)
Senior Digital Marketer & Web Developer (R3 Group)
PR and Editorial Assistant (Cubiqdesign Ltd)
Editor at UMEN Magazine (Jordan)
Assistant Director of Learning and ICT & International Schools Coordinator (Longdean)
Press and Policy Officer (Retail Motor Industry Federation)
Senior multimedia reporter (Trinity Mirror Group PLC)
Executive HR at (SEGi Malaysia)
Marketing Executive (Eckoh plc)
Content Analyst (UK Knowledgebase)
Assistant Film Director (HK)
Graphic Designer (Mostaix Malaysia)
Journalist (Malay Mail Malaysia)
Client Partner (Clearhead Media)
Internal Communications Specialist (Abu Dhabi - General Secretariat of the Executive Council)
Journalist (New Strait Times Malaysia)
Copywriter (Win Technologies)
Account Executive (Priority Communications Malaysia)
Intern (Fashion and Celebrity Gossip – LiveLikeaVIP.com)

Information taken from our alumni from LinkedIn - June 2014.

Apply

Journalism and Media guide

Head of Mass Media Communications

Mimi Tessier