Foundation and Extended degrees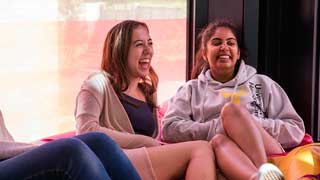 Alongside our undergraduate programmes, we offer foundation and extended degree courses which may be exactly what you're looking for.
What is a foundation degree?
A foundation degrees is a two-year course which gives you a stand-alone qualification with the opportunity to progress on to either the second or final year of a BA/BSc honours top-up course at the University of Hertfordshire, depending on your results.
What is an extended degree?
If you don't quite have the right qualifications for your chosen undergraduate programme, an extended degree may help you get there. You will gain the necessary subject knowledge to bring you up to the required standard to progress on to the first year of a degree at Herts.
Progressing from the Foundation Degree at Oaklands College to the BA (Hons) Film and TV Production at Herts was definitely a great choice for me – my new classmates have been so welcoming and, although I was studying elsewhere for two years prior to joining, I do not feel that I have missed out on the uni experience.
What are the benefits?
Access to the University's facilities including accommodation, the Athletics Union and Learning Resource Centre.
Smaller class sizes and personal tutoring to suit individual needs, interests and goals.
Duel student status benefiting from two vibrant student communities at the University and at the College.
Opportunities to progress on to the second or final year of a BA/BSc honours qualification at Herts!
Where will I study?
The Consortium Colleges are a family of institutions across the Hertfordshire region who are working with the University of Hertfordshire to bring excellent teaching, outstanding facilities and great support, right on your doorstep.
<!-owl.js-->
What can I study?
We have a wide variety of courses available. Use our course search to find your perfect foundation or extended degree.