Undergraduate Mechanical Engineering courses
Mechanical engineers are involved in producing innovative designs using the latest materials and systems.
A mechanical engineering degree with the University of Hertfordshire will provide you with the flexibility to be employed in any industrial company irrespective of their product range.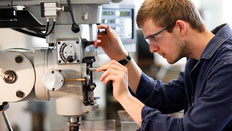 You will learn how to apply computer-aided engineering and industry-standard software, recommended by our Automotive Industry Advisory Panel.
During your degree at the School of Engineering and Technology you will gain a good grounding in engineering including:
Materials, electrical and mechanical science
Fluid mechanics and thermodynamics
Engineering mathematics
Design, product development and manufacturing
Computer aided design and engineering
Mechanical engineering design and structures
In the final year, you have the option of studying either manufacturing or the rapidly growing field of micro-electrico-mechanical systems (MEMS) which is informed by the active research programme in the same area.
Additionally our successful Knowledge Transfer Programme (KTP) which is carried out in conjunction with industry will further enrich your experience by providing you with the opportunity to work on the "Drying Centre and the bearing test rig" courtesy of our industrial partner Secomac.
Courses
Opportunities to work with students of other disciplines include:
Automotive students - building and racing a single-seater race car in the UK Formula Student Competition
Aerospace students - projects involving Unmanned Air Vehicles (UAVs), rocketry and space tourism